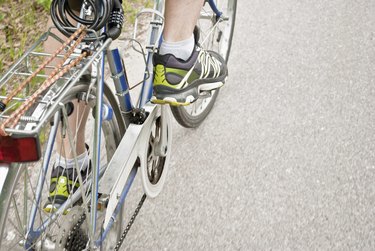 As you chug up hills or sprint along flat stretches, you can expect a bit of soreness in your body from the physical exertion of cycling. However, ankle pain during or after a ride is a sign that something is wrong with your equipment, your form or your body. Whether it's a slight twinge or a persistent ache, that pain you're experiencing in your ankle should be addressed before it keeps you from enjoying your time on the bike.
Check Your Form
According to cycling expert Sheldon Brown, the way you ride can give you an ache in the ankle. Pedaling using a technique called ankling was once touted as the best way to make efficient use of your lower leg, but is now seen as a potential source of injury. Ankling requires you to make exaggerated motions with your foot so the toes point down at the bottom of the pedal stroke and up at the top. This motion can strain the Achilles tendon and lead to ankle pain. Instead of making this exaggerated motion, allow your foot to move naturally through each pedal stroke. In addition to pedaling naturally, pedal with the ball of your foot, not the arch or toes, to avoid straining your ankles.
Too Much Too Soon
Because cycling is an enjoyable form of exercise, it's tempting to do too much too soon. You may try to push a gear that's too high for your legs, climb a hill that's a bit too steep or a ride that's longer than you're ready for. With the repetitive motion of pedaling, the extra strain of doing too much too soon takes many tolls on your body including the overuse of your Achilles tendon. This overuse can lead to inflammation of the tendon and pain in your ankle. The best way to prevent this type of injury is to gradually increase the difficulty and duration of your cycling workouts.
Blame Your Equipment
If your cycling form and fitness are top notch, it could be your equipment that is causing you ankle pain. The first piece of gear to check are your bike's cleats. If too far forward, you'll be using your toes to pedal and this can overstretch the Achilles tendon. Readjust your cleats so they are positioned under the ball of your foot. Your shoes may also be to blame if your feet over-pronate. Your local bike shop can recommend orthotics that fit in your shoes to help correct this problem. If your cleats and shoes are not the issue, examine your pedals and your crank arms. Poorly attached or damaged pedals and crank arms are not only dangerous, but may move side to side as you pedal. This uneven motion can stress the Achilles tendon and lead to ankle pain.
Working Through the Pain
If you are experiencing pain from cycling, stay off the bike until the pain subsides. Ice the ankle and take anti-inflammatory medicine to reduce the swelling and pain. If the pain doesn't go away after a few days of rest and home treatment, see your doctor. Once your ankle is better, maintaining flexibility and strength in the Achilles tendon can help reduce the likelihood of future injury. Regularly performing calf stretches and ankle rotations can help with flexibility, while calf raises and toe taps will improve ankle strength.