Pushups increase your functional health -- your ability to perform the basic tasks of life. The number of pushups you're able to complete in correct form during a set amount of time gives a measure of your fitness. The President's Challenge Fitness Test allows you to check your performance against the average number of pushups for men over 50. For example, 15 pushups is at the 50th percentile, or average, for a 55-year-old man. Checking your pushup score helps you set fitness goals and increase your motivation.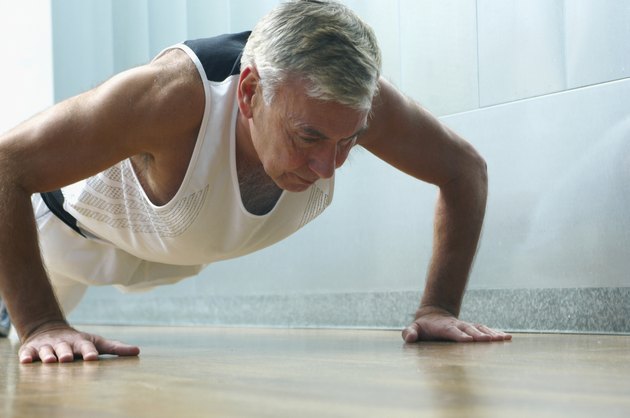 The Numbers
The President's Challenge Physical Fitness Test offers an adult version online. To see how you compare with other men over 50, the site requires that you enter your test results for how many pushups you completed in one minute. The site provides an evaluation of your scores, including your percentile for your age group. In a test of pushups to exertion, without a time limit, the average number of pushups for men ages 50 to 59 is nine to 17, and for men 60 to 65, the average is six to 16, as of 2011.
Context
Given that relatively few Americans exercise regularly and men over 50 lose muscle and gain body fat, the average number of pushups for men over 50 may represent the level of an unfit population. Using this average to set personal goals might not be enough to reduce your risk for chronic diseases and loss of independence as you age, in addition to lowering your life expectancy. Engaging in at least two to three strength-training sessions a week including pushups will help improve your fitness and overall health.
Technique
Completing a pushup in correct form involves placing your hands under your shoulders and pushing up with your hands and toes supporting your body. Your head, back and legs form a straight line angled toward the ground. The exercise requires lowering your chest to 2 inches from the floor for each repetition. Setting a stopwatch or timer for one minute allows you to perform a timed pushup test. Men with physical limitations may perform a modified pushup from the kneeling position.
Benefits
Performing pushups preserves muscle. Maintaining muscle is crucial for men over 50. Strength training is the one effective strategy against age-related loss of lean tissue. By keeping an optimum ratio of lean tissue to body fat, you maintain your metabolism for weight management. Pushups work your arms, shoulders, chest and back. The exercise contributes to core stability -- the ability of your back and abdominal muscles to stabilize your trunk as you move. The deep breathing, improved circulation and muscular effort of pushups reduce stress and contribute to self-esteem for men over 50.