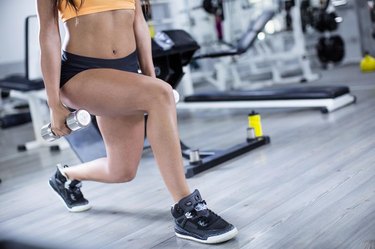 Save time and build a great physique by working both your stomach and legs in one strength-building, fat-burning exercise session. Combining exercises in a circuit workout also helps sizzle fat more quickly than steady-state cardio combined or traditional weight-training, so you reveal defined muscles.
Balance, twists and folds are essential to strengthening your abs while your legs respond to squats, lunges and bridges. Each of the following moves work your abs and your legs together in one heart-pumping move. Aim for three of these circuit workouts weekly on non-consecutive days.
Start this workout with a brief warm-up consisting of marching in place, brisk walking or pedaling an exercise bike for 5 to 10 minutes. A few dynamic stretches, such as high knee lifts, torso twists and forward bends, done for 30 seconds each finishes your pre-workout routine.
Do each of these exercises for 45 to 60 seconds and leave just enough time between them to change equipment. After one full revolution, rest 1 minute, and then repeat one or two more times through.
Marching Bridge
Step 1
Lie on your back on an exercise mat. Bend your knees and plant your feet hip-distance apart. Place your hands on the mat alongside your torso, palms face down.
Step 2
Lift your hips into a bridge, which is a straight line from your shoulders to your knees.
Step 3
From the lifted position, lift one leg and then the other to march for the entire interval. Lower your hips back down to finish.
Lunge with Rotation
Step 1
Start with your feet hip-distance apart. Hold a dumbbell with both hands in the center of your chest.
Step 2
Step the right foot forward into a lunge; bend the right knee. Simultaneously rotate your torso and the dumbbell to the right.
Step 3
Step back and straighten your torso. Repeat on the left side. Alternate for the entire cycle.
Tip
Beginning exercisers might use a 5-pound weight, but more experienced people can work their way up to 20 pounds.
Balancing Hip Hinge
Step 1
Stand and hold a dumbbell in your right hand, arm extended, so the weight is hanging in front of your thighs. Allow your knees to bend just the slightest bit.
Step 2
Unweight your right leg and fold forward from your hips drawing the weight toward your left front ankle.
Step 3
Use control to stand back up, and avoid putting your right foot down between repetitions. Do 20 to 30 seconds of the interval on the right, and then switch to the left.
Squat with Extended Arms
Step 1
Stand feet hip-distance apart. Hold a medicine ball or dumbbell in both hands with arms extended in front of you, parallel to the floor.
Step 2
Raise the weight overhead until your arms are straight and squat to the right. Straighten the legs to step back to center and then squat left. Keep the weight extended overhead the whole time.
Step 3
Continue to alternate the squatting side-to-side movement for the whole cycle.
Tip
Beginners should start the squat with extended arm using no weight. If you have shoulder issues, hold the weight in the center of the chest as you squat side to side.
Side Plank Knee Crunch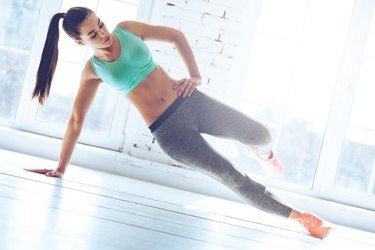 Step 1
Prop into a side plank by balancing on your right palm and stacking your hips, shoulders and feet. Place your left hand on your hip.
Step 2
Lift your left leg and pull the knee in toward your chest. Straighten the leg and repeat.
Step 3
Do 20 to 30 seconds balancing on the right palm, then 20 to 30 seconds on the left palm.
Tip
If it hurts your wrist to balance on your palm, lower down to your forearm.
Rear Lunge with Rotating Crunch
Step 1
Start standing with your feet side by side and your hands behind your head.
Step 2
Step back with your left leg to a rear lunge, bending your right knee deeply. Twist your upper body as you step back, bringing your left elbow outside your right knee.
Step 3
Untwist and step forward. Repeat with the other leg. Alternate for the entire cycle.