A review published in the International "Journal of Behavioral Nutrition and Physical Activity" reports that large portions contribute to obesity. Regulating the size of food portions is a simple process that can help you to lose weight. Weighing out food before it is eaten is a convenient method of controlling portion sizes and is something you can easily do at home with basic kitchen equipment.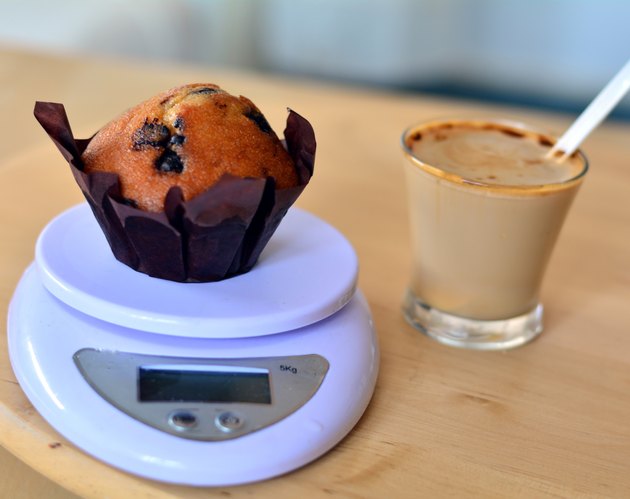 Step 1
Shop for a kitchen scale. It is best to opt for a digital scale with a tally function. Mechanical scales tend to be less expensive but digital scales are more accurate and reliable. You need precise measurements when measuring portion sizes.
Step 2
Position the scales on an even surface, like a kitchen table or kitchen counter. You need enough space to place the scale and to prepare the food for weighing.
Step 3
Turn on the power of the scale.
Step 4
Calibrate the scale. Place a clean plate or bowl securely on the center of the scale so it does not rock or wobble. Press the tally button so that the display reads zero.
Step 5
Remove the plate from the scale and place it safely on the work surface. The scale should now give a negative reading of the weight of the plate.
Step 6
Weigh out the desired portion size. According to the U.S. Department of Health and Human Services, a standard portion for most meats and fish is 3 ounces. Look for portion size information on packages and use on-line resources such as MyPyramid.gov to learn about the recommended portion size of other foods. Weigh the food before it has been washed or cooked. Place the plate of food on the scale. The calibrated scale will measure the weight of the food only. Remove or add more of the food until you reach the required portion. You can remove the plate as many times as you like provided that you do not press the tally button for a second time. For hygiene reasons, you need to wash the plate thoroughly with hot water and detergent between weighing different foods.
Tips
Trim off any visible fat from meat products.
One ounce of fortified breakfast cereal and 200 ml skim milk make a nutritious and low-calorie breakfast.
Warning
Store and weigh raw foods separately to prevent cross-contamination.