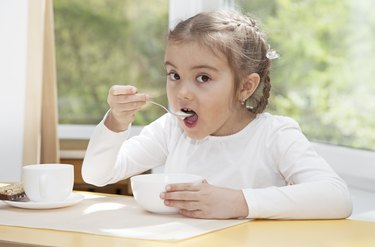 Getting kids to eat yogurt may be a challenge; however, if you put it in a tube, you may have better luck. Yoplait has done just that with their brand of yogurt called Go-Gurt. They offer flavors such as Strawberry Splash and Cool Cotton Candy. Knowing the nutrition information for Go-Gurt can help you determine if it is a healthy choice for your child.
Ingredients
Manufacturers must list the ingredients in their food products on the food label. Ingredients are listed in descending order by weight. Listed in descending order, Go-Gurt Strawberry Splash contains cultured pasteurized grade-A low-fat milk, sugar, modified food starch, kosher gelatin, tricalcium phosphate, natural and artificial flavor, potassium sorbate, red #40, vitamin A acetate, blue #1 and vitamin D3. Potassium sorbate is used to preserve freshness. Tricalcium phosphate is a food additive used to improve flow.
Calories
Yoplait Go-Gurt comes in a variety of flavors, including Strawberry Banana Burst, Watermelon Meltdown and Strawberry Kiwi Kick. Nutritional information for the flavors does not vary. One Go-Gurt tube, which is a 64-g serving, contains 70 calories. By comparison, an equivalent serving of regular, low-fat, fruit-flavored yogurt contains 65 calories.
Fat
Go-Gurt is made with low-fat milk, making it a low-fat food item. One tube contains 0.5 g of total fat and less than 5 mg of cholesterol. Your recommended daily fat intake varies depending on your age. Children between the ages of 1 and 3 should get 30 to 40 percent of their calories from fat; children and teens 4 to 18 should get 25 to 35 percent of their calories from fat; and anyone over the age of 19 needs 20 to 35 percent of their calories from fat.
Carbohydrates
One tube of Go-Gurt contains 13 g of carbohydrates and 10 g of sugar. The sugar in Go-Gurt comes from the milk and the added sugar. The added sugar does not offer any nutritional value. The U.S. Department of Agriculture recommends all Americans limit their intake of foods with added sugar to less than 5 to 15 percent of their daily calorie intake.
Protein
Go-Gurt is not a significant source of protein. One tube contains 2 g of protein. Protein needs vary depending on age and gender, but protein should make up 10 to 35 percent of your daily calorie intake. Children between the ages of 4 and 8 need 19 g of protein a day; between the ages of 9 and 13, they need 34 g of protein a day. By comparison, adult women need about 46 g of protein a day, and adult men need 56 g a day.
Calcium and Vitamin D
One tube of Go-Gurt meets 10 percent of your daily value for both calcium and vitamin D -- or about 100 mg of calcium and 60 IU of vitamin D. Both calcium and vitamin D are important nutrients for bone health and growth.