The rotator cuff muscles stabilize and control movement in the shoulder. The four muscles that form the rotator cuff are the supraspinatus, infraspinatus, teres minor and subscapularis. Rotator cuff tears are one of the more common shoulder injuries. The major symptom of a rotator cuff tear is pain through the top of the shoulder or arm. Strength training can provide therapeutic relief for a rotator cuff tear.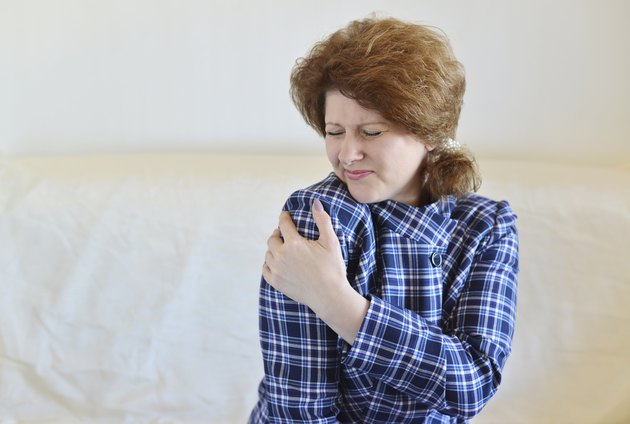 Shoulder Flexion
Shoulder flexion strengthens the anterior head of the shoulder. Sit on a stability ball with yours knees bent and feet in front of you. Straighten your arms while holding a dumbbell in each hand. Raise both arms until each dumbbell reaches shoulder level. A lateral view would show your arms to be horizontal to the floor. Lower your arms down until the dumbbells are just outside your hips. Perform repetitions until you complete a full set. Keep the arms straight through both movement aspects. Prevent excessive strain in your upper posterior neck.
Side-Lying External Rotation
External rotation is one exercise that isolates the rotator cuff. Lie on your right side while holding a dumbbell in your left hand. Bend your left elbow so your left arm is a right angle. Hold the dumbbell palms down while the inside of your left elbow touches your side. Start with your forearm horizontal to the table. Rotate your left forearm upward slightly. A full range of motion is dictated by whether you can keep your interior left elbow into your side. Bring the dumbbell down once your left upper arm position has to be changed. Pause momentarily once your left forearm is back horizontal to the floor. Flip over to your left side and change arm roles. Make sure the weight of the dumbbell is manageable.
Standing Shoulder Extension
Shoulder extension targets your posterior shoulder deltoid. Wrap a Thera-Band tube around a support pole. A thera tube provides a thick resistance cord with two handles. Stand with your legs and back straight. Slightly bend your knees while your feet are shoulder width apart. Hold the handles of the thera tube, palms facing behind you. Straighten both of your arms completely. Start your hands in front of your the body. Pull the handles behind you, past the outside of your hips. Pause for two seconds once your hands pass your hips. Slowly allow your hands forward until they reach their original position. Perform as many reps as proper form will allow. Prevent your lower back from arching on the resistance phase.
Bosu Planks
Bosu planks act as an advanced shoulder stabilizer. Place a Bosu ball platform side up on the floor. Lie face down with your back and legs straight, heels propped up. Your hands are flat on each side of the Bosu platform. Straighten your arms so they are vertical over the platform. Tilt the Bosu left and right, then forward and backward. Maintain your abdominal contraction during the platform tilts. Keep alternating between each tilting direction for 20 to 25 seconds. You do not want to exceed five total Bosu planks. Make sure to keep your hips aligned with your spinal column.