Running 10 miles a week is a modest goal. It works out to less than 1.5 miles per day over an entire week or 2 miles per day if you only run five days per week. Although this isn't an extreme fitness program, it will burn enough calories to result in some weight loss. By combining your running routine with a proper diet you can lose weight at a safe weekly rate.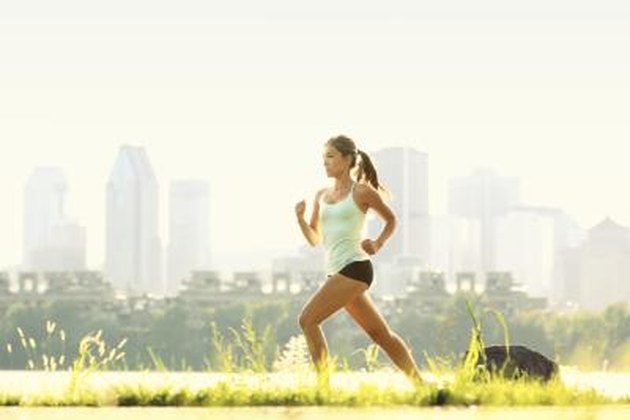 Calorie Burn
How much weight you lose depends on the rate at which you burn calories running. According to the website Cool Running, distance is what matters when it comes to your calorie burn, not speed. A 180-pound person will burn about 1,422 calories running 10 miles. But a lighter 125-pound person will burn just 988 calories in 10 miles. A heavier 230-pound person will burn 1,817 calories running 10 miles.
Calories to Fat
One pound of fat is equal to about 3,500 calories. Most people will burn less than 1 pound of fat by running 10 miles. A 180-pound person will burn about 0.4 pounds per week based on this level of exercise. A 125-pound person will lose about a third of a pound. Even a 230-pound person can only expect to lose about half a pound by running 10 miles per week.
Diet
Your diet plays an important role in any weight loss plan. To lose weight you need to create a calorie deficit, meaning you need to eat fewer calories than you burn through exercise and regular activities. If you consume the same number of calories that you burn you won't lose weight. Create a deficit of 500 to 1,000 calories per day for safe weight loss in the range of 1 to 2 pounds per week. If you're running 10 miles a week then you'll also need to reduce your calorie intake to meet these goals. For example, if you burn 300 calories running one day you would need to reduce your daily intake by 200 to 700 calories.
Considerations
Always consult your doctor before starting a weight loss or exercise program. If you're overweight, your doctor may advise you to lose weight before you start running and may suggest alternative exercises in the interim.
Be sure to consume enough calories to fuel your body. The American College of Sports Medicine recommends that women consume at least 1,200 calories per day. For men, the minimum is 1,500 calories. Consuming fewer calories than this may slow your metabolism, causing you to lose weight at a slower rate.