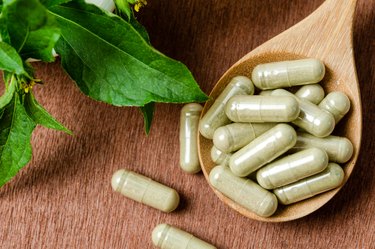 Weight gain as women age seems inevitable. After menopause, estrogen levels tend to decrease. As a result, muscle growth decreases which allows fat to take over the body and causes a drop in your metabolism. This change makes weight loss more difficult. Many women over the age of 55 turn to weight-loss pills for help in their weight loss battle. Talk to your doctor to see if weight-loss pills are right for you.
Prescription Weight-Loss Pills
The Food and Drug Administration have approved several prescription weight loss pills. The FDA provides information about the effectiveness of the pills as well as the possible side effects. Weight-loss pills are generally only prescribed to women with obesity or have a body mass index or 30 or greater. There are three types of prescription weight loss pills on the market, including phentermine, orlistat, and sibutramine. These three types come in a variety of brand name as well as generic form. Phentermine is an appetite suppressant. Phentermine side effects include high blood pressure and addiction to the pill. Orlistate works by blocking fat absorption in your body. Gastrointestinal side effects are most common with Orlistate including diarrhea and loose stools. Sibutramine also serves as an appetite suppressant and gives you the feeling of fullness even if you have not eaten anything. Sibutramine may cause an increase in heart rate as well as blood pressure.
Over-the-Counter Weight-Loss Pills
There are a wide variety of weight-loss pills available over the counter. These medications do not require a prescription. It is important to remember that not all over-the-counter medications have been examined or approved by the FDA. Read the label carefully prior to use. One popular, FDA-approved weight-loss pill available over the counter is Alli. Alli is the only over-the-counter weight loss pill that is approved by the FDA. Costing about $50 a bottle, Alli helps block fat absorption. You can take Alli with food up to three times per day. Alli requires that you eat a healthy, well-balanced diet. If you overeat while taking Alli, your may experience loose stools. There are other over-the-counter weight loss pills. It is important to remember that these pills are not approved by the FDA and can cause a variety of dangerous side effects including increased heart rate, high blood pressure and organ damage. Over-the-counter weight loss pills include Hoodia, Ephedra and Chitosan.
Natural Weight-Loss Supplements
Natural weight loss supplements are used by many women. However, these supplements have not been researched nor have they been approved by the FDA for use during weight loss. Women should use caution, read the labels and conduct research on their own regarding the benefits and pitfalls of natural weight loss supplements. One popular means of natural weight loss is the use of green tea. Green tea is commonly known for its fat-burning properties as well as its contents of powerful antioxidants. Green tea is believed to help boost your metabolism which can lead to increased weight loss. Cayenne is also used in natural weight loss. Cayenne can help to enhance your digestive system while boosting your body's metabolism. Cinnamon can also be used as a weight loss aid. Cinnamon can boost your metabolism, lower your cholesterol and manage blood glucose levels. Consult with your doctor before taking any supplements.
Taking weight-loss pills alone will not help women lose weight. Weight-loss pills need to be used in conjunction with eating a well-balanced diet and engaging in regular exercise. Before beginning a weight-loss program or using weight-loss pills, consult your doctor. Your doctor can recommend a weight-loss program, ensure you are healthy enough to exercise and help you consider your options when it comes to weight-loss pills.