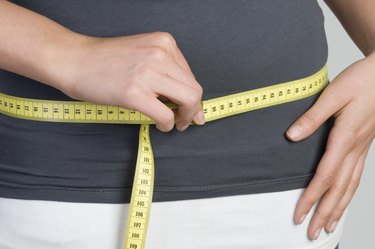 Trying to lose weight is never easy, but it can seem especially difficult when your attempts are focused on the belly. However, you can shed pounds from your midsection, and the rest of your body for that matter, by committing to a simple three-month plan that focuses on improving your overall health and firming up your middle.
Step 1
Limit your intake of highly processed foods. That includes chips, cookies, cakes, candy, ice cream and other packaged snacks.
Step 2
Stop drinking sodas. Don't purchase them for your home and don't buy them at restaurants. Soda is high in calories and doesn't offer any nutritional benefits, adding to your waistline and not your health.
Step 3
Drink at least eight 8-ounce glasses of water a day. Include a glass with each meal and start and end your day with one. Drinking water throughout the day will keep you hydrated, keep your metabolism functioning properly and keep your digestive system expelling waste and reducing belly bloat.
Step 1
Exercise for 30 minutes every morning. Start your day by performing a cardiovascular exercise of your choice, such as jogging, biking, running or swimming. Any exercise that gets your heart rate up will burn calories if combined with the actions you began in the first month of your belly fat busting plan.
Step 2
Eat at least four servings of fresh vegetables and fruits every day. Keep your refrigerator stocked with them. Fresh produce is filled with fiber and water, both of which make you feel full faster, allowing you to eat fewer calories without feeling hungry.
Step 3
Don't eat before bedtime. Stop your intake of food two to three hours before you go to sleep. This way, your body will have time to properly digest the food of the day and metabolize all of those calories.
Step 1
Increase the amount of time you exercise from 30 minutes to 45 minutes a day. The more exercise you do, the more calories you'll burn and the more overall fat and belly fat you'll eliminate.
Step 2
Perform crunches and sit-ups. Really target your midsection by doing any exercise that tightens up your abdominal muscles. Crunches and sit-ups work because they repeatedly contract and release these muscles. Do sets of 10 in the morning and evening. You can increase this number as your ab muscles strengthen.
Step 3
Perform reverse crunches and leg lifts to firm up the lower abdominal muscles. This area of the belly often looks fat even when you have toned abs. Commit to a set of 10 leg lifts and reverse crunches twice a day to tone up all of your abdominal muscles and finish off your new sleek look at the end of your three month deadline.