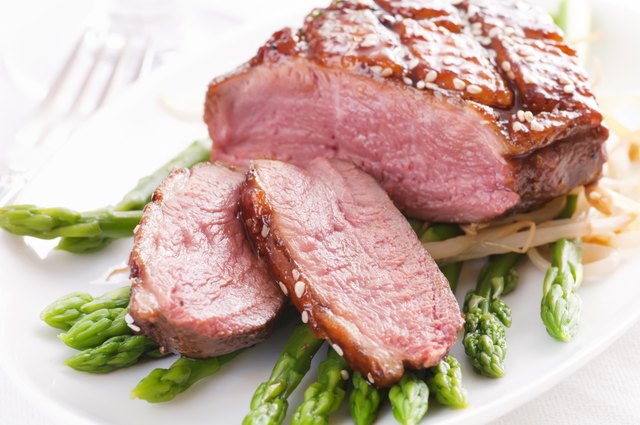 With its rich flavor and juicy mouthfeel, duck meat provides an indulgent way to reach your recommended protein foods -- a food group that includes meat, eggs, beans and nuts. Each 3.5-ounce portion makes up a significant amount of the recommended daily protein serving size for women and 58 percent for men, according to the USDA MyPlate dietary guidelines of 5 to 5.5 ounces a day for women and 6 to 6.5 ounces for men. Duck makes a healthful addition to your diet and offers several nutrients important for tissue function.
Complete Protein
Duck meat helps you boost your protein intake. Like other meat, duck provides complete protein, which means that its amino acid profile includes each of the amino acids you need in your diet. Each 3.5-ounce serving -- measured raw -- of domesticated duck meat, with the skin removed, contains 18 grams of protein. Protein supports your immune system, helps maintain your tissue and keeps your skin strong and healthy.
Zinc and Selenium
Adding duck meat to your diet also boosts your mineral intake -- it serves as an especially rich source of selenium and zinc. Both of these minerals play a role in enzyme function and activate enzymes needed for healthy cellular metabolism. Zinc also boosts your immune system, while selenium helps your thyroid function properly. Each 3.5-ounce serving of duck meat contains 1.9 milligrams of zinc -- 17 percent of the recommended daily intake for men and 24 percent for women -- as well as 14 micrograms of selenium, or one-quarter of your daily intake requirement.
Vitamins B-5 and B-12
Add duck to your diet and you'll also enjoy the health benefits of its vitamin content. Each serving of duck contains 1.6 milligrams of vitamin B-5, or pantothenic acid -- 32 percent of your recommended daily intake -- as well as 0.4 micrograms of vitamin B-12, or 17 percent of the B-12 you need each day. Both vitamins B-5 and B-12 support nervous system function -- vitamin B-5 helps you make chemicals involved in nerve signaling, while getting enough vitamin B-12 in your diet protects you from nerve damage.
Considerations and Cooking Tips
Even with the skin removed, duck meat contains a fair amount of fat -- 6 grams of total fat and 2.3 grams of saturated fat per serving. To help keep your duck as lean as possible, make sure to cook it skinless, trim away any visible fat before cooking and don't add more oil during the cooking process. Serve your duck with healthful sides -- a mixture of braised kale and roasted beets or a medley of roasted carrots and parsnips complements its rich flavor. Make sure you also cook your duck thoroughly -- until it reaches an internal temperature of 165 degrees Fahrenheit -- to avoid food-borne illness, recommends the Food and Drug Administration.