A vegan diet excludes all animal food sources including meat, eggs and dairy. This eliminates a number of common sources for vitamins and minerals, but most vegans make an effort to select other nutritional foods or supplements to compensate. For example, vegans avoid animal milk even though it offers calcium and other nutrients. However, soy milk is a good alternative for vegans and anyone who chooses to avoid dairy products for health or other reasons, and many brands are fortified with calcium.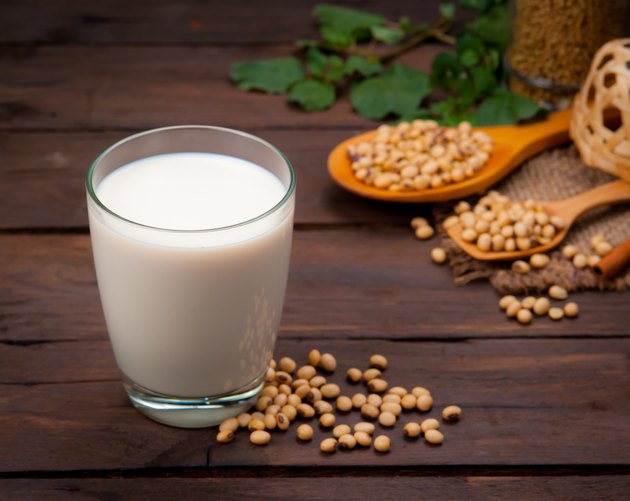 Soy Milk
To make soy milk, manufacturers soak and then grind soybeans with water. Often, they sweeten or flavor the resulting beany-tasting fluid to make the soy milk more palatable to Western tastes. In some cases, manufacturers also add thickeners to the soy milk to create a mouthfeel similar to cow's milk. You can make your own soy milk by following the same soaking and grinding process. Some people prefer this method to avoid any additives or additional processing.
Advantages
Soy provides protein, and this is a significant benefit to vegans or anyone following a diet low in animal proteins. Soy does not contain cholesterol and is low in fat. Products with soy also provide important nutrients such as calcium, vitamin D and vitamin A. You can use soy milk in any recipe as a substitute for regular milk, and you can simply drink a glass of it. You will likely notice some flavor differences, but most people adjust to the taste of soy milk easily.
Alternatives
Vegans and people seeking milk alternatives have a number of options in addition to soy milk. Almond milk contains a significant amount of protein and flavor, or you can choose rice milk, oat milk or hazelnut milk. Coconut milk is another alternative, but this product has a richer, more intense flavor. You may want to try a variety of plant-based milks to determine which one you prefer.
Considerations
If you are just beginning to explore a vegan diet, talk with your doctor about your particular nutritional needs. Cutting out animal products also means that you eliminate a source of important vitamins and minerals, and your doctor can help you ensure that you find other food sources or take supplements.