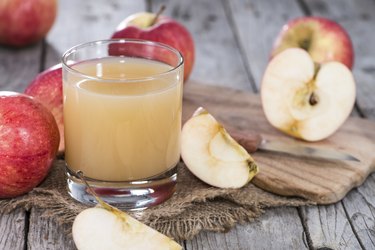 Everyone's heard the saying "an apple a day keeps the doctor away." Apples are healthy indeed, as well as tasty when eaten alone and featured in different food products. One of the most common apple products is apple juice, a great alternative to sodas, energy drinks and other sweet beverages. Apple juice is filled with calcium, iron, potassium and vitamins C and E. Drinking this tasty treat has a wide variety of health benefits.
Tip
Apple juice makes a healthier choice than soft drinks or other sweetened beverages due to its vitamin and mineral content, including vitamin C and potassium. But you should limit your intake to one serving a day, or a 1/2-cup, and eat more whole fresh fruit instead.
Is Fruit Juice Healthy?
Walking into a supermarket, you'll see dozens of different fruit juices. Some of these products are made from concentrate, while others are cold-pressed or organic. Choosing the right juice can be confusing.
Many fruit juices have added sugars and artificial sweeteners. There's often lots of sugar in the orange juice, apple juice and grape juice we see on the supermarket shelf — more than in those found in the refrigerated section. Products made from concentrate typically have the most added sugars. These fruit juices should be consumed in small amounts. According to Kathy McManus, director of the Department of Nutrition at Harvard-affiliated Brigham and Women's Hospital, such products have only a tiny amount of the whole fruit's vitamins and minerals. They're also not as filling as the whole fruit, which means your total calorie consumption may increase.
Better juices are available, however. Cloudy and pulpy juices, typically made from whole-pressed fruit and consequently containing more nutrients — like antioxidants and fiber — are a much better option. Home juicers and fresh fruit juicers at cafés or supermarkets increase the availability of fresh juices that deserve their spot at the top because they contain the most vitamins and minerals and lack preservatives. Best of all, these juices have none of the added sugars or artificial sweeteners found in commercial products. Consumption of sweetened fruit juices and soft drinks is associated with arthritis and other health issues. If you don't have access to a juicer, you can use the United States Department of Agriculture's food database to see which manufacturers sell the healthiest fruit juices. But because fresh juices aren't pasteurized, you should try to drink them right away before they spoil and make you sick.
Why Drink Apple Juice?
A number of studies have focused on the many health benefits of apple products and apple juices. For example:
A 2007 study in the European Respiratory Journal showed that apple juice was able to minimize wheezing in asthmatic children. However, a 2016 study in the Journal of Public Health Nutrition showed that children who regularly drank beverages sweetened with high-fructose corn syrup were more likely to have asthma. This highlights the importance of drinking apple juice without added sweeteners.
A 2008 study in the Journal of Planta Medica showed that various apple products, including apple juice, were able to protect against skin, breast and colon cancer.
Apple juice has many benefits, but it's always best to choose the whole fruit over a glass of juice when possible. Remember that Dietary Guidelines for Americans recommends only one serving, which is equal to a 1/2-cup, of 100 percent fruit juice per day as part of your daily fruit intake.