Just about every workout you encounter, from those in your latest fitness magazine to martial arts to boot camp, includes push-ups. These workouts assume you're already push-up-proficient, but you have to build up stamina and strength for this exercise.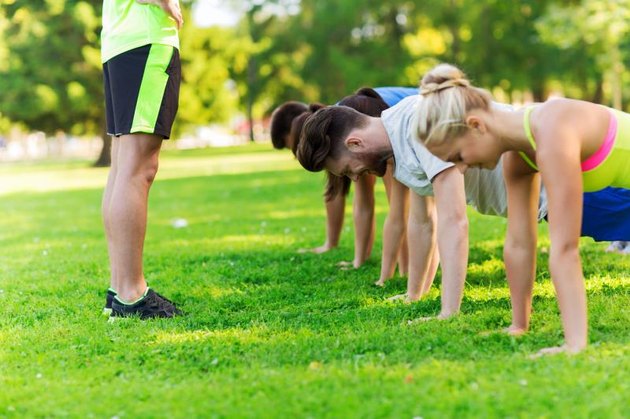 Don't avoid push-ups altogether because they're hard or you don't know where to start. You'll be missing out on a serious total-body calisthenic exercise.
Benefits of Push-Ups
During a push-up, your core works hard to hold your body rigid, your legs and buttocks fire to prevent your hips from hiking too high or sagging too low, your arms — specifically the triceps at the backs of your arms — assist the bending action at your elbows and your latissimus dorsi and trapezius muscles provide stability for your trunk.
Push-ups are versatile, too — hence their ubiquity. Drop and do 10 in any gym, in your living room, on a grassy field or in a hotel room. And when you're stronger, you can amp them up with one-legged and decline versions.
Beginners can modify push-ups so that they, too, can benefit from the exercise. Start with wall push-ups, move onto an incline variation and finally, do push-ups with knees supported on the ground. Over time, you'll work up the strength to do a full push-up and celebrate the body that gets you there.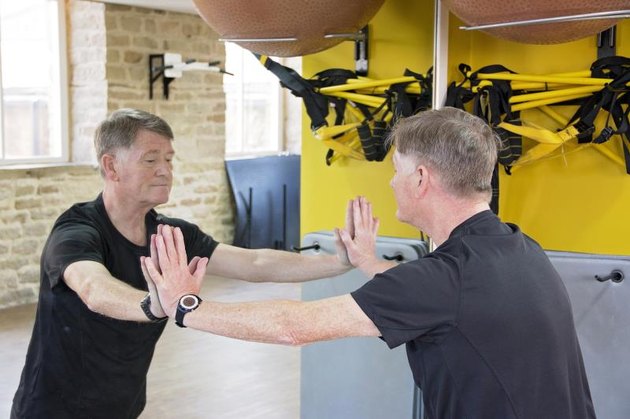 1. Wall Push-Ups
The wall push-up is perfect for a beginner, especially anyone with wrist, elbow or shoulder discomfort.
HOW TO DO THEM: Stand in front of a wall. Place your hands against the wall at shoulder height. They should be slightly wider than shoulder-distance apart. Walk your feet back one to two feet so you're at an angle with the wall surface. The farther back you walk, the greater the intensity.
Bend your elbows to bring your face closer to the wall. Straighten your arms as you exhale and push your torso and face away from the wall. Bend your elbows again as you inhale and return to the starting position. This completes one repetition. Work your way up to 20 repetitions without resting.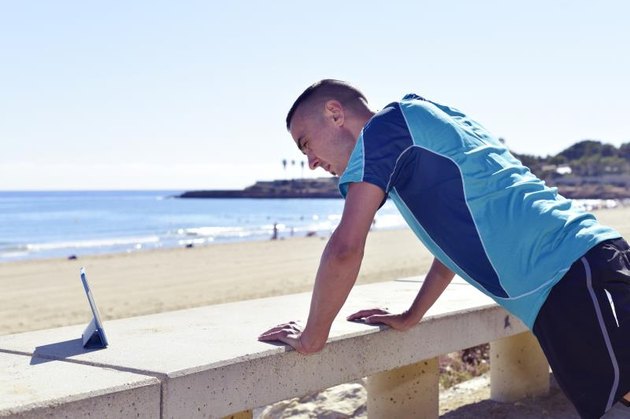 2. Incline Push-Ups
Start with a higher incline, which is easier, and move to a lower incline after several workouts. Suitable props for an incline surface include a kitchen counter, a coffee table, a workout bench or a step.
HOW TO DO THEM: Place your hands on the incline surface with your hands at shoulder height and slightly wider than your armpits. Bend your elbows to create a 45-degree angle with your body.
Stop when your upper arms are parallel to the push-up surface. Extend your elbows to return to the start position to complete one repetition. Work up to three sets of 12 repetitions.
If you're working off a low surface that's just 10 to 12 inches from the ground and a full push-up is challenging, feel free to use your knees propped on the floor as support.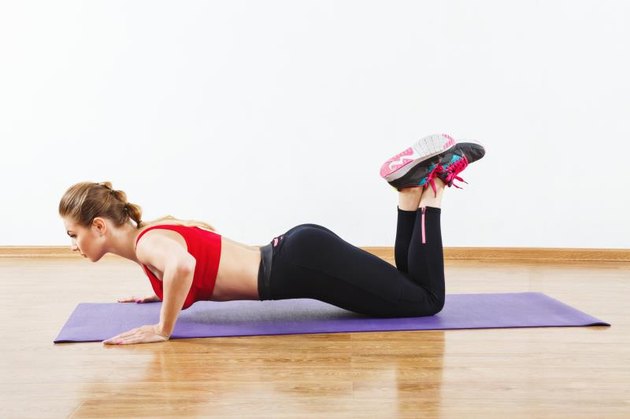 3. Knee Push-Ups
Using your knees as support during a push-up helps you build the strength in your chest and core so you can eventually do a full version.
HOW TO DO THEM: Lie flat, face down, on an exercise mat. Place your hands at shoulder height and a little wider than your ribs. Your thumbs will be right under your armpits.
Press up so that you're arms are extended and you're resting on the tops of the knees where they attach to your thighs. Bend your elbows until they're at a 90-degree angle. Extend your elbows to the start position to complete one repetition. Work your way up to three sets of 12 repetitions.
Moving On to Full Push-Ups
Once you've built strength through all the modified versions, you're ready to try full push-ups. When you first start, you may only accomplish two or three full push-ups before your hips sag or hike or you're unable to bend your elbows to a full 90-degrees. It's OK — finish your planned repetitions on your knees and try for a few more full variations at your next workout.
Building up to the full push-up with good form takes time and patience. How long it'll take you to build up to 12 or more full push-ups depends on your body strength, your workout experience and your dedication.