The 30-Day Shred workout was designed by celebrity fitness trainer Jillian Michaels. This weight loss DVD comprises three 20-minute circuit training workouts that are based on Jillian's 3-2-1 interval method. Each circuit alternates among three minutes of strength training, two minutes of cardio and one minute of core work to effectively burn fat and lose up to 20 pounds within 30 days. In order to lose weight with Jillian's 30-Day Shred series, you'll need to incorporate a sensible diet that allows you to consume the appropriate amount of calories and healthy foods in order to reduce body fat.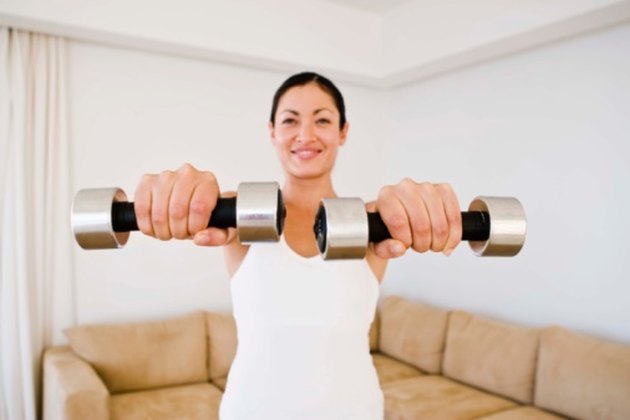 Step 1
Find a meal plan that can be customized to meet your needs, or calculate your daily caloric intake each day, based on the foods you consume and the type of exercise you participate in. Tracking your calorie consumption, expenditure and physical activity will determine how much weight you can potentially lose within the 30-day period.
Step 2
Coordinate your workout schedule and determine which days you plan to exercise and at what time so that you stay committed to your fitness plan and reach your goals.
Step 3
Perform each workout from the 30-Day Shred once a week. Alternate between the beginner, intermediate and advanced level workouts to prevent boredom and keep your muscles guessing. Each workout should be performed on non-consecutive days to allow your muscles to recover.
Step 4
Incorporate at least two additional days of exercise -- cardio, yoga, or Pilates -- outside of the three workout days that you perform the 30-Day Shred program. According to the Centers for Disease Control, adults between the ages of 18 and 64 require 150 minutes of moderate intensity aerobic fitness every week and two to three days a week of strength training.
Step 5
Track your progress. Weigh yourself and measure your body fat and record your results prior to beginning 30-Day Shred. Always weigh yourself first thing in the morning on an empty stomach for better accuracy. You should expect to lose an average of one to two pounds a week, maybe more, depending on your behavior, according to the Mayo Clinic. Weigh and measure your body fat once a week and not every day. Record your weekly results in a journal.
Things You'll Need
Set of light weight dumbbells

Scale

Body Fat Analyzer

Journal
Tip
Try on clothes and pay attention to the fit. A great way to identify weight loss is if your clothes become too big or fit loosely. Stay positive, even when the numbers on the scales increase. When building muscle, you may experience weight gain -- lean muscle tissue -- but as long as your body fat percentage is decreasing, you're on the right track.
Warning
Always consult with your physician before starting a fitness program or trying a new diet. Do not skip meals in order to help accelerate fat loss; an active body needs calories for energy to burn off calories. Skipping meals causes your metabolism to slow down, resulting in fat storage.