Exercise is a critical part of living a healthy lifestyle. When it comes to weight loss, daily exercise produces significant results. While exercising is a healthy choice, it's important to be sure you're not overtraining your body. Be sure you get at least six, preferably eight, hours of sleep each night to promote muscle recovery. Always consult a health care professional before starting a new workout regimen.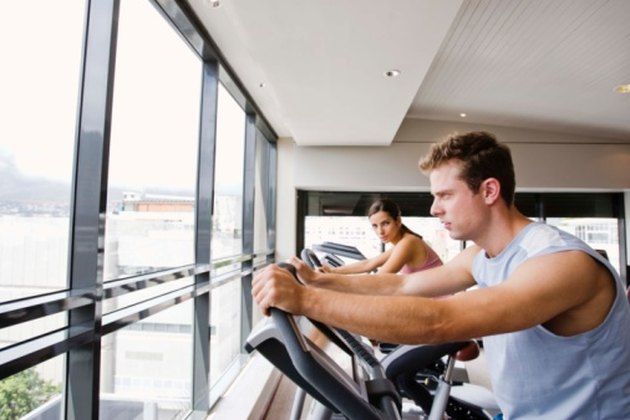 Duration
The Centers for Disease Control and Prevention, or CDC, recommends exercising for 30 to 60 minutes daily. You can burn a significant amount of fat by exercising at a moderate pace for a maximum of 60 minutes, or by exercising at a more vigorous pace for 30 minutes. Exceeding 60 minutes per workout, especially when exercising every day, can lead to overtraining. Performing shorter, vigorous-pace workouts on back-to-back days also raises overtraining risk because it can put excess strain on your muscles. Overtraining raises risk for muscle and bone injuries. These include muscle atrophy, which is the loss of muscle.
By the Numbers
Weight loss occurs when you create a calorie deficit, which simply means you're taking in fewer calories than you're using. To burn 1 lb. body fat you must create a calorie deficit of 3,500 calories. While the majority of that calorie deficit can be achieved by modifying your diet, exercise helps fill in the gaps. The CDC recommends losing weight at a safe rate of 1 to 2 lbs. per week. That means you can safely lose up to 8 lbs. over the course of a month by working out each day.
Calories Burned
According to the Mayo Clinic, a 200-lb. person can burn 728 calories per hour jogging at a moderate pace of 5 mph. The same person burns even more calories on a stair climbing machine -- up to 819 calories per hour. Walking on the treadmill is also an effective aerobic workout. A 200-lb. person burns about 346 calories per hour walking at a brisk pace of 3.5 mph. Performing 60 minutes of resistance training using free weights or other weightlifting equipment could help a 200-lb. person burn 273 calories.
Types
The two main types of exercise found at the gym include aerobic and resistance training. Use both types to help you lose weight faster. According to the Mayo Clinic, increased muscle mass helps your body burn more calories by raising your metabolism, so resistance training can really help speed up your weight loss. Aerobic, or cardio, training burns more calories than resistance training and helps to improve your cardiovascular health. Use a combination of aerobic and resistance training exercises to get the benefits of each.