Your grandmother might be disappointed to learn that a study published in March 2015 in "JAMA Internal Medicine" failed to find convincing evidence supporting the old adage that "an apple a day keeps the doctor away." Nonetheless, apples can be an appetizing, versatile component of a healthful diet. This is especially true for whole apples, which are more nutritious than apple juice. But too much of even a good thing can cause intestinal upset, including diarrhea. The higher concentration of sugars in apple juice makes it more likely to cause diarrhea than the whole fruit, especially in children. On the other hand, whole apples can potentially be helpful for both diarrhea and constipation due to their high fiber content.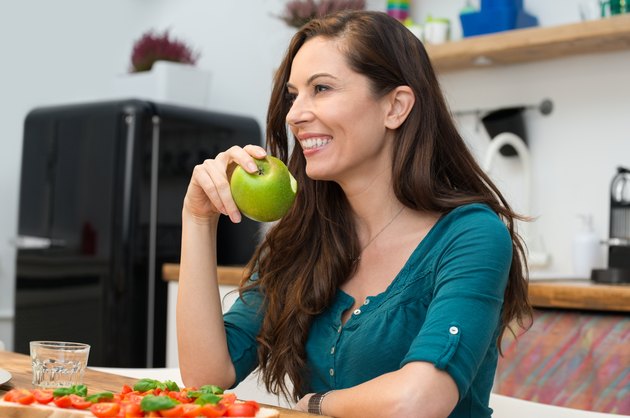 Fiber and Pectin
Apples contain a high concentration of fiber, especially the soluble fiber pectin. The "Foods and Food Production Encyclopedia" reports that whole apples contain roughly 0.6 to 1.2 percent pectin by weight. The exact amount differs by the variety of apple and how long it has been stored. Soluble fiber mixes with water and forms a gelatinous mass in the intestines, which increases the bulk of your stool. Therefore, frequent inclusion of apples or apple juice in your diet might lead to softer, more frequent bowel movements. This fiber effect is typically not enough to cause diarrhea -- unless you're eating apples or apple juice in addition to large amounts of other high-fiber foods or are also taking fiber supplements.
Fructose
Apples contain the sugars glucose, sucrose and fructose, also known as fruit sugar. Apples are particularly high in fructose, with many varieties containing roughly twice as much fructose compared to sucrose. Glucose is typically the less abundant than both fructose and sucrose. Most people can eat the amount of fructose in a typical diet without difficulty, but others develop diarrhea when they consume the sugar. This condition, known as fructose intolerance, is associated with other digestive symptoms including abdominal bloating, increased intestinal gas and cramping stomach pains -- symptoms similar to irritable bowel syndrome (IBS). Apples and apple juice are often trigger foods for people with fructose intolerance.
Whole Apples vs. Apple Juice
Apple juice contains all the sugar but very little of the fiber contained in a whole apple. The reduced level of fiber -- combined with the fact that it's much easier to drink too much juice than it is to eat too many apples -- means that juice is generally more likely to cause or worsen diarrhea than the whole fruit. This is particularly true in children. To get the nutritional benefits from apples without increasing the risk of diarrhea, it's usually best to eat whole fruit rather than drinking apple juice.
Considerations
Apples and apple juice can help treat diarrhea and constipation in some people, but may cause diarrhea in others. To determine whether the fiber or sugars in apples or apple juice are causing diarrhea, you might try cutting back on your intake to see if your symptoms subside. If your diarrhea persists, talk with your doctor about your symptoms. She can evaluate you to be sure there isn't an underlying medical problem and offer dietary advice.
Reviewed by: Tina M. St. John, M.D.