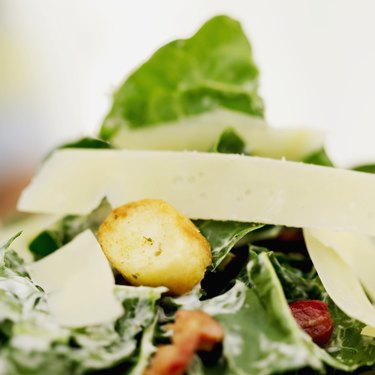 Herschel Walker is a former professional football player who spent 12 seasons in the NFL before retiring in 1997. He also won the Heisman Trophy in 1982 while playing football for the University of Georgia. Walker is well-known for being a vegetarian athlete with an extreme diet, despite his very active training schedule. He currently runs a wholesale food company and competes in mixed martial arts.
Long after his days of playing in the National Football League in the 90s, Walker is in stellar shape and trains extensively using mixed martial arts. In an interview with the "Atlanta Journal Constitution," Walker said that he eats a lot of vegetables and breads and quit eating red meat about 20 years ago. Although he claims to be a vegetarian, Walker admitted eating chicken occasionally. He eats only one meal a day and it consists of bread and salad or soup. Walker said that his diet and hard work ethic has been heavily influenced by his family, whom he says have lived long lives.
Nutrition scientists from the Beltsville Human Nutrition Research Center examined diet habits of a group of normal-weight, middle-age men and women. Participants were divided into two groups: volunteers who consumed either all of their required weight-maintenance calories in one meal a day or in three meals a day. Researchers observed that "one mealers" had significant increases in total cholesterol, LDL "bad" cholesterol and blood pressure, compared with their levels when they ate three meals a day. In addition to these changes, "one mealers" had higher morning fasting blood sugar levels and a delayed response to the body's insulin.
Walker hasn't revealed whether he has any cardiovascular or blood glucose health problems as a result of his extreme, restrictive diet. Vegetarian athletes might need to take supplements to get missing vitamins and minerals in the diet, but taking too many supplements can be dangerous to your health. While Herschel Walker seems to be in good physical shape, his one meal a day diet is not recommended. Always consult with your health care provider before you make changes to your diet and exercise routine.
Walker's diet of "bread and vegetables" is very simple and loaded with carbohydrates. A carbohydrate-rich diet provides fuel for the body and keeps blood sugar levels within normal range if the right combination of foods are eaten. Carbohydrates can be stored in the body and used later during exercising. Make half of your calories carbohydrates to maximize how your body uses energy. Eat a variety of foods such as fruits, vegetables, nuts, meat substitutes, meat, fish and grains for a healthy diet. Have several small meals a day and include protein and fat. Carbohydrates include breads, cereals, fruits, vegetables, pasta, milk, honey, syrups and table sugar.