Because of their anatomical location, the testicles are highly sensitive and prone to injury. Runners and other athletes are at an increased risk for groin strain, direct trauma and other injuries that can result in testicle pain. Testicular pain can arise for a number of reasons, some of which might not be identifiable. While most cases are not serious, testicle pain can sometimes be part of a more dangerous condition. Understanding the nature of testicular pain helps runners distinguish normal pain from a health crisis and find the most effective treatment.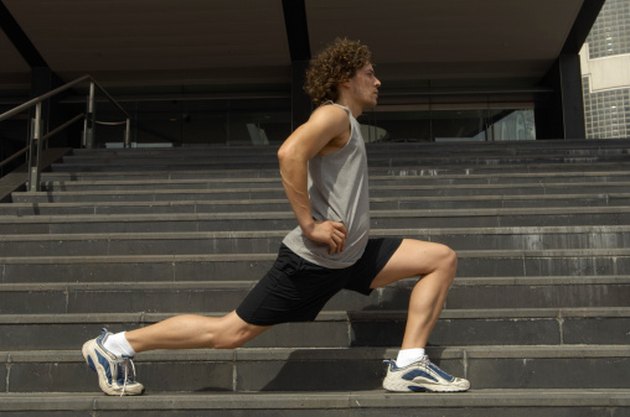 Causes
The causes of testicular pain range from harmless to life-threatening, with the vast majority being non-serious. Athletes and other active men might experience soreness caused by excessive movement, groin injury or poorly fitting underwear. Sweating that occurs during running can lead to itching, scratching and subsequent pain. Sports Injury Clinic states that hernias can cause groin pain during exercise and other forms of exertion. Less commonly, testicle pain can result from problems elsewhere in the body, such as the kidney or abdomen, according to MayoClinic.com. In some cases, the cause of pain is idiopathic and cannot be determined upon examination.
Symptoms
The degree and location of testicular pain, as well as the presence of other symptoms, can give clues about its origin. Pain can vary in intensity from mild to severe and might be described as sharp, burning, dull or throbbing. When direct trauma is involved, nausea might be present until the pain subsides. Testicular pain accompanied by fever or other systemic symptoms like vomiting is not normal and requires immediate medical attention.
Prevention/Solution
Wearing appropriate clothing and safety gear can help prevent testicular pain and injury when running. Supportive underwear made from a breathable fabric like nylon or mesh allows sweat to evaporate and prevents excessive movement that can cause soreness. For mild pain, Kids Health suggests taking an over-the-counter pain reliever and lying in a comfortable position until the pain subsides. Placing a folded cloth under the testicles and applying an ice pack to the area also might be helpful for minor pain.
Warning
While most testicle pain is not serious, sudden or severe pain that occurs for no obvious reason might signal a health crisis. If you experience pain accompanied by testicular bruising, swelling or bleeding, seek medical help immediately.