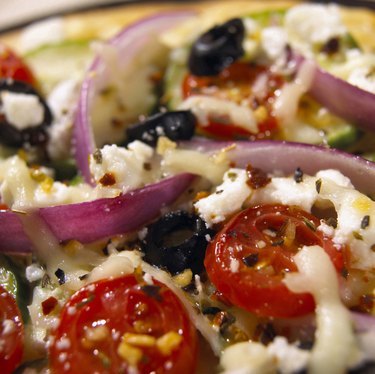 Pizza is an all time favorite meal. When you don't want to pay for delivery or leave your house to go and pick up a pizza, the NuWave oven is a quick and easy way to cook your next pizza at home. Cooking in the NuWave can keep you from having to use your oven and reduce the amount of heat in your kitchen. Also, the NuWave oven makes clean up easy. The NuWave pizza flipper makes cooking in the NuWave oven even easier, allowing you to turn your pizza without making a mess.
Step 1
Select your favorite frozen pizza to be cooked in the NuWave oven. Your chosen pizza should be no more than 11 inches in diameter.
Step 2
Position the reversible rack in your NuWave oven. It should serve as the 4-inch rack on your liner pan inside the oven.
Step 3
Place a piece of parchment or wax paper on the rack. The paper should be large enough to hold the entire pizza and fully cover the rack.
Step 4
Put the pizza on the parchment paper face down. This will allow the crust to cook more thoroughly.
Step 5
Cook on the high power level. Continue to cook the pizza until the crust is golden brown.
Step 6
Flip the pizza over with the NuWave oven pizza flipper. Slide the bottom portion of the pizza flipper under the parchment paper and the top of it over the crust. Squeeze the handle of the pizza flipper to obtain a firm grip on the pizza before flipping the pizza over.
Step 7
Remove the parchment paper. The pizza should now be right-side up on the rack.
Step 8
Cook the pizza on high power for three to five more minutes or until the cheese has melted. Remove the pizza from the NuWave oven and cut as desired.
Things You'll Need
NuWave oven

NuWave pizza flipper

Parchment paper