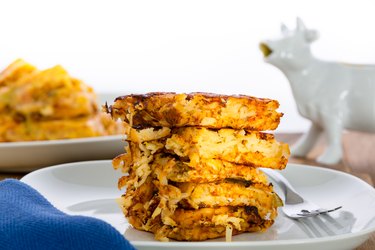 Hash browns are "crisp-fried potatoes made by dicing, chopping, or mashing boiled potatoes and browning them in hot fat or oil," per Dictionary.com. But hash browns aren't just for breakfast. They're a tasty side dish that can go with any meal.
Traditionally, hash browns are made from shredded or cubed potatoes. However, you can also make them from leftover mashed potatoes. Making hash browns from mashed potatoes is moderately easy and takes little time.
Things You'll Need
2 cups mashed potatoes

1 egg

1 onion

3 tbsp. olive oil

Salt

Pepper

Seasoning mix (optional)

Hot sauce (optional)
Beat the egg thoroughly.
Add your preferred seasoning mix, along with salt and pepper.
Fold in the mashed potatoes and set aside.
Preheat the skillet by cooking 1 tablespoon of olive oil for about 1 minute.
Sauté the onions, cooking until they're translucent, which takes about 2 minutes.
Mix the glazed onions into the egg and potato mixture.
Heat the remaining olive oil in the pan for about 1 minute.
Drop about 4 tablespoons of the mixture into the hot pan, forming circles about 1-inch thick.
Cook about 2 minutes until brown on the bottom.
Flip and cook about 1 minute on the other side.

These are best when they form a crispy crust on both sides.

Serve warm. If desired, serve with hot sauce.
Tip
You can use instant or mashed potatoes, cold or hot.
Epicurious.com suggests other variations, including adding green chilies, mixing chicken soup into the batter or topping with cheddar and jack cheese.