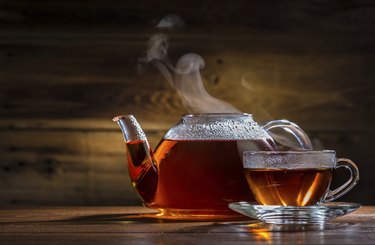 Chronic acid reflux is likely to inspire any number of lifestyle changes, and choice of beverages may be one of them. Many "go-to" drinks like coffee and sodas are likely to aggravate heartburn and other symptoms of acid reflux, which in its chronic form is known as gastroesophageal reflux disease, or GERD. If you're used to reaching for soft drinks, caffeinated beverages or certain fruit juices when you're thirsty, consider switching to alternatives that may actually relieve symptoms rather than trigger them.
If you took high school chemistry, you might remember that liquids may be acidic, alkaline or neutral. The pH level is a measure of how acidic or alkaline a particular solution is. Acid not only further irritates inflamed esophageal tissue on contact, but it activates pepsin, the stomach enzyme whose primary function is to break down protein, which in turn converts into acid. That makes matters worse. A big part of managing acid reflux is avoiding acid itself.
Citrus juices such as orange and grapefruit -- along with cranberry, mango, cherry and pineapple juices -- are very acidic and may be best avoided. Beets, carrots, pears, aloe vera, water melon, cantaloupe and their juices are low in acid and suitable for the acid-scorched esophagus. Apple, peach and pear juice are actually nearly as acidic as orange juice. Most vegetables and their juices, including cucumbers, spinach and cabbage, are alkaline and less likely to cause problems. Still, everyone is different, and it's good to learn from trial and error.
When chronic acid reflux becomes a problem, switching from traditional tea or coffee to caffeine-free herbal teas may be a good idea. Tea made from the Camellia sinensis leaves -- which includes "black" and green tea -- and coffee both contain caffeine and other substances that can aggravate acid reflux. Herbal teas may offer more than just a neutral alternative. Chamomile, ginger and licorice teas have properties that might actually help soothe acid reflux symptoms.
Anyone who's been to the supermarket lately knows that milk doesn't just mean cow's milk anymore. Unless you're lactose-intolerant or otherwise allergic, cow's milk, which is alkaline, may be OK, but for some people it can also trigger allergies. Goat's milk, however, is recommended over cow's milk because it's easier to digest. However, there may be better choices. Plant-based milks made from soy or almonds are not only safe, but when the final product has an alkaline composition, this may actually help neutralize acid lingering in the esophagus.
Naturally Alkaline Artesian Water
A July 2012 study in the "Annals of Otology, Rhinology & Laryngology" showed that drinking high-alkaline water with a pH of 8.8 instantly neutralizes pepsin, the enzyme that converts to digestive acid when it comes into contact with certain substances. It was also shown to serve as an acid buffer, protecting the esophagus against contact with additional acids. Drinking plenty of water is essential for good health, and that's especially true if you have acid reflux. However, there are two qualifications: First, water should be consumed in smaller amounts throughout the day to prevent regurgitation, a common problem with acid reflux. Second, water should not be consumed in quantity with meals because it interferes with digestion and may cause food to expand, stimulating acid production.
Next Steps and Precautions
Except for bottled water, most bottled beverages -- including fruit and vegetable juices and herbal teas -- are preserved with ascorbic or citric acid as part of the "canning and bottling" process and therefore may have a low pH value -- meaning that they're acidic and potentially irritating. Although mint tea is enjoyed by many as a digestive aid, mint may cause the muscular valve between the stomach and esophagus to relax, allowing acidic digestive juices to leak into the esophagus. For this reason, the pediatric remedy "Gripe Water," which often contains mint and other herbs, may not be good for acid reflux.
Finally, while diet and lifestyle modifications may be helpful for GERD, some people require acid-suppressing medication as well, so work with your doctor if you are dealing with more than just occasional heartburn.