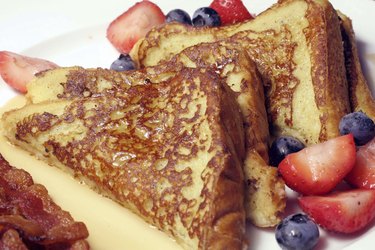 French toast is a classic breakfast treat. White bread is a perfect choice for use in French toast recipes as it has a light taste which allows the egg and syrup flavors to stand out. The lightness of the white bread also helps it toast easier. Choose regular white bread or a thicker alternative known as Texas toast for your white bread French toast recipe.
Step 1
Spray frying pan with non-stick spray. Place pan on burner and turn heat to medium and allow it to preheat.
Step 2
Whisk eggs, milk and vanilla in mixing bowl. Dip a slice of bread into the egg mixture. Saturate both sides of the bread completely, and allow the egg mixture to fully absorb.
Step 3
Place one slice into preheated frying pan. Cook for three to five minutes. Slide the spatula gently under the slice, lifting it slightly to check if it is browned prior to flipping it.
Step 4
Cook the second side for three to five minutes as well, allowing it to brown before removing it from the pan. Repeat all steps with the other five slices of bread.
Step 5
Top french toast with butter and maple syrup.
Things You'll Need
Non-Stick spray

Frying pan

2 eggs

2/3 cup milk

1 teaspoon vanilla

Mixing bowl

Whisk

6 pieces white bread

Spatula
Tip
Maple syrup can be replaced with powdered sugar or berries. Cinnamon can be added to the egg mixture and cinnamon sugar used as a topping for a variation.
Warning
Do not leave the bread slices in the egg mixture. If they get too soggy, they will be difficult to flip.