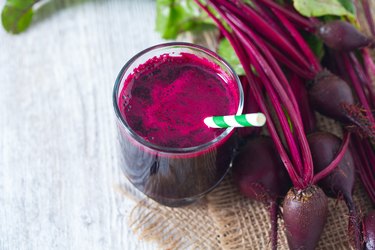 Vivid beets are packed with health benefits, including being a good source of manganese and folate, having a positive effect on hypertension and having the ability to help with chronic inflammation. And juicing beets could hardly be easier — simply whizz them in a blender, strain into a glass and enjoy.
Health Benefits of Juicing Beets
Colorful beets are a root vegetable in the Beta vulgaris species which includes table beets, processing beets and novelty beets, chard, mangel-wurzels and sugar beets. Both the roots and leaves of the beet plant are edible.
An April 2015 review in the journal Nutrients details some of the health benefits of eating beets. Beetroot is rich in several bioactive compounds that may provide health benefits, particularly for disorders characterized by chronic inflammation, as well as dietary nitrate, which may contribute to cardiovascular health.
Nutrients mentions studies that show that eating beets helps positively affect hypertension, atherosclerosis, type 2 diabetes and dementia. Beet juice, in particular, has been lauded as being able to reduce systolic and diastolic blood pressure with regards to hypertension.
In addition, a Harvard Health Publishing Health Letter cites beets as being a good source of the B vitamin folate and the mineral manganese. Beets also contain naturally high levels of nitrates, converted by the digestive system into nitric oxide to relax and widen blood vessels.
According to the California Department of Public Health, a half-cup serving of beets is a good source of folate and manganese and a source of riboflavin. A half-cup serving of cooked beet greens is a good source of vitamins A, C and K as well as manganese.
There are few beetroot juice side effects, although consuming beets can result in a harmless but potentially alarming reddish colored urine or stool. The USDA shows that an 8-ounce serving of organic beet juice contains 106 calories and 22 grams of naturally occurring sugar.
Juicing Beets
You may make beet juice in a high-powered blender or with a juicer. If using a blender for juicing beets, you should first roughly chop the beets before adding them to the blender along with a bit of water. Blend until a juice forms, then strain it into a glass through a fine-mesh strainer. Save the pulp to incorporate into cakes or muffins.
If using a juicer, you may simply feed in the beets according to the manufacturer's directions. You may drink straight beet juice or add other fruits and vegetables — such as carrots, apples, greens such as spinach or kale, cucumber and lemon — to the juicer or blender along with the beets before processing.
What to do with the leftover greens? If you purchase your beets from a farmers' market, they may come with foliage attached. As outlined in Why Are Beets Good For You, try our method for a simple beet greens recipe: either steam beet greens or lightly sauté them in a little olive oil with garlic and red pepper flakes. You may also add beet greens to soups and stews.
To make a beetroot and carrot juice at home in a blender, follow our method for how to use a blender as a juicer. Use beets, carrots, apples and fresh ginger in your juice. You may also use a juicer and follow the manufacturer's instructions to make your juice.