The loin is to pork what the filet mignon is to beef. The pork loin is the tenderest cut and the perfect ingredient for a wide array of recipes. You can cook the loin whole or cut into medallions. A whole loin weighs typically two to three pounds. A half loin weighs about a pound, and serves two people. This recipe will guide you through the oven-roasting method.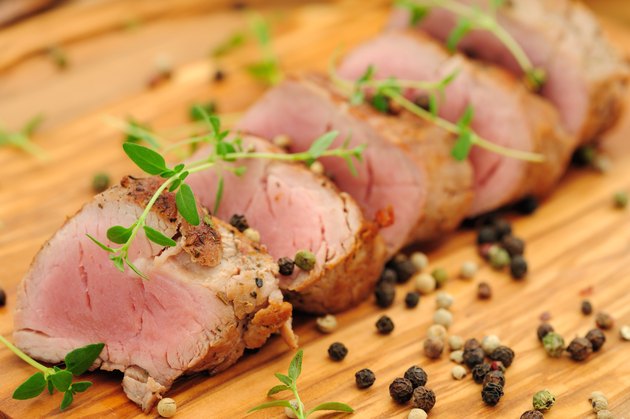 Step 1
Preheat your oven to 400 degrees. CookingLight.com recommends using high temperatures for small cuts of meat like pork loin.
Step 2
Cut a whole loin in half across the width of the loin.The loin will have a slight indentation that makes a good cutting point. You may also find loins that appear more like two pieces, making halving them an easy task. Save the other half for another use.
Step 3
Remove the membrane. This is a tough, inedible portion of connective tissue that runs the length of the loin. To remove it, use a paring knife to get under the membrane and peel it from the meat. The rest of your pork loin should be relatively free from fat. If there is excess fat present, cut it off before cooking.
Step 4
Coat the loin with olive oil. The olive oil will compensate for its low fat content.
Step 5
Season the pork liberally with salt and freshly ground black pepper. At this point, you can also season the loin with fresh herbs such as thyme or parsley. You can also apply a dry rub for added flavor.
Step 6
Heat a skillet on the stove, preferably an ovenproof cast iron pan. A cast-iron skillet heats evenly and will provide a good sear for the pork loin.
Step 7
Apply cooking spray to the skill to prevent sticking.
Step 8
Sear the pork loin on all sides for about five minutes. This means cooking the pork until it forms a golden brown crust. Allow your skillet to heat for three or four minutes before cooking to reach a hot temperature. It will feel hot if you place your hand over it.
Step 9
Place the skillet with the pork in the preheated oven and roast for 20 to 25 minutes. Check the temperature of the meat with an instant read thermometer. The meat is done when it has reached 150 to 155 degrees. Remove the roast from the oven
Step 10
Remove the pork loin from the skillet to a serving dish. Cover it with aluminum foil and allow to rest for about 10 to 15 minutes before cutting. The rest time is essential to allow the meat to reabsorb its juices and prevent drying out. The temperature of the meat will about five degrees as it rests.
Step 11
Cut into 1/2 inch horizontal medallions and serve.
Things You'll Need
Pork tenderloin weighing 2 to 3 1/2 lbs. and cut in half. Total length 10 to 12 inches

Paring knife

Olive oil

Salt

Pepper

Dry rub (optional)

Herbs, such as thyme or parsley (optional)

Cooking spray

10 to 12 inch skillet, preferably cast iron

Instant read thermometer

Aluminum foil
Tip
For a flavor boost, slice a clove of garlic. Place the slivers in slits around the entire length of the pork loin.
Make a delicious pan sauce in the skillet after cooking. Add 1/4 cup of white wine to deglaze the skillet and loosen any brown bits. Add one cup of chicken broth and reduce to one half. Season to taste and serve.
Warning
Do not overcook pork loin. Overcooked meat is tough and dry.
When buying pork, the meat should be pink and firm. Do not buy meat that is gray in color.
Be careful when handling pork. Wash your hands after handling the meat. You should also use a different cutting board and knife for vegetables. If unavailable, wash everything in hot, soapy water before using again.