Nothing beats the smell of soup simmering on the stove on a cool winter evening, and even in warm weather, the comforting taste and texture of soup is just what you need at the end of a long, hard day. Sometimes, though, you don't have time to wait for the soup to heat on the stove, or you're in a place where the only option available for heating food is a microwave oven. Don't worry; you can still enjoy your soup nice and hot, fresh from the microwave.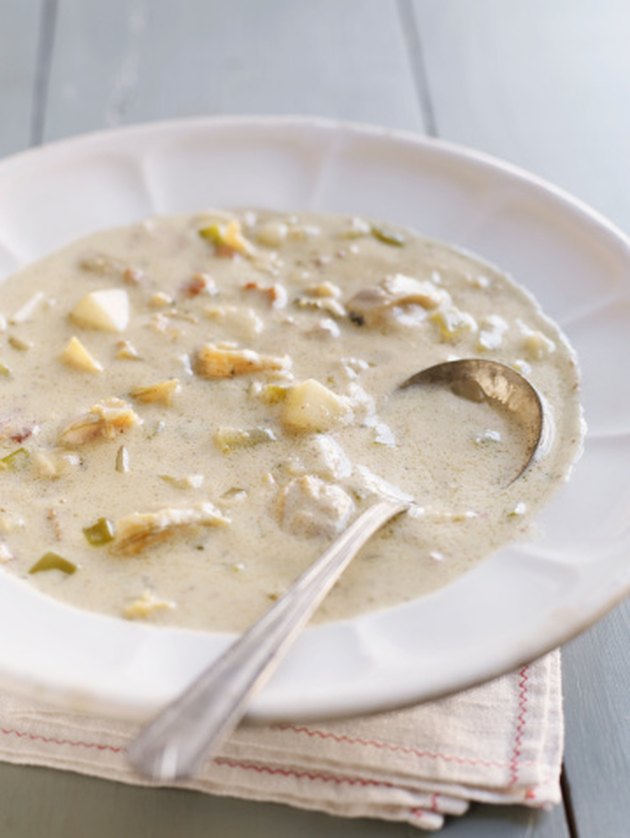 Step 1
Pour or ladle the soup into a microwave-safe bowl. Make sure the bowl is glass or ceramic and doesn't have any metal on it.
Step 2
Add water as instructed on the can If making soup from concentrate. Usually you add one can of water for each can of soup concentrate.
Step 3
Cover the bowl with plastic wrap. Leave a gap about 1 inch wide to allow steam to escape between the bowl and the wrap. If no plastic wrap is available, lay a paper towel over the top of the bowl to prevent splattering.
Step 4
Microwave the soup on high for one minute.
Step 5
Stir the soup and taste it carefully to see if it's warm enough. If not, continue microwaving it for 30 seconds at a time, stirring and tasting after every 30 seconds.
Step 6
Remove the soup from the microwave, using oven mitts or hot pads if the bowl is hot. Remove the plastic wrap and stir.
Things You'll Need
Microwave-safe bowl

Plastic wrap or paper towel

Spoon

Hot pads or oven mitts