Beef brisket is a staple for any barbecue because it is a versatile and inexpensive cut of beef. A roaster will cook your brisket in a similar time frame and manner as using a roaster pan in your regular oven, and many roasters have a nonstick liner that can be removed and cleaned, which makes cleanup a breeze. Many home cooks also prefer electric ovens for their convenience; you can have a slow-roasted, savory beef brisket and cook your sides at the same time in your conventional oven.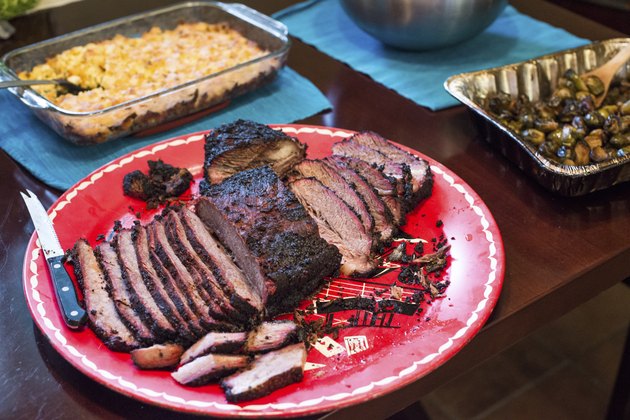 Step 1
Preheat your roaster to 350 degrees F.
Step 2
Season your brisket with any dry seasonings or rubs that you are using.
Step 3
Place the brisket in the roaster and add the water or beef stock.
Step 4
Place the lid on the roaster and roast the brisket for four hours.
Step 5
Test the brisket with a fork. If you can insert a fork deep into the brisket and pull it out easily, it is ready. If the brisket is not yet tender, put it back into the roaster and roast for 10 more minutes. Repeat this process until the brisket is finished.
Step 6
Remove the brisket from the roaster. Allow the brisket to rest for 30 minutes before you carve it and add sauce to taste.
Things You'll Need
1 5- to 7-lb. beef brisket

1 qt. water or beef stock

Seasonings of your choice, such as onion soup mix or barbecue sauce

Electric roaster
Tips
For an authentic barbecued brisket, do not add barbecue sauce until after the brisket is sliced. This will make the brisket less messy and allow each diner to add the amount of sauce she prefers.
Warning
Always check the instructions of your electric roaster before you use it. Some roaster have different cooking capacities and recommendations for using liquids such as sauces.
Check the internal temperature of your brisket with a meat thermometer. FoodSafety.gov recommends a temperature of at least 145 degrees F to prevent food-borne illness.
After handling uncooked meat, thoroughly wash your hands and any surface the meat touched. This will help prevent illness.