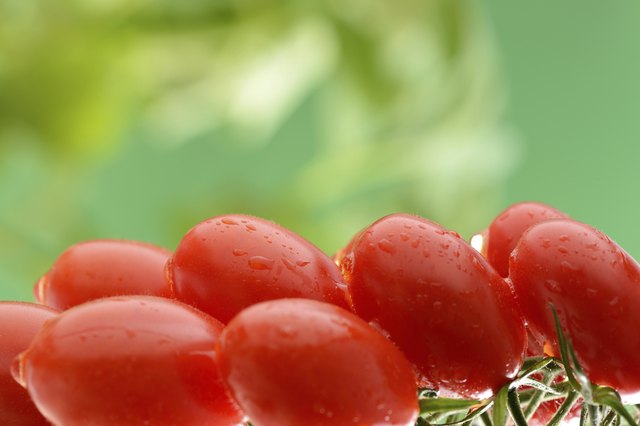 Tomatoes are high source of vitamin C, or ascorbic acid, but it is this acid that can contribute to stomach discomfort and a bitter taste to your sauce. While adding sweet ingredients, such as sugar, can alter the acidic taste, other ingredients can neutralize the acid, leaving your favorite sauce not only tasty, but easy on the stomach.
Step 1
Combine your sauce ingredients in a large pot, using peeled plum or Roma tomatoes, if you choose to use fresh tomatoes. These varieties are naturally lower in acid.
Step 2
Place a small amount of olive oil in a skillet on medium heat and add thinly sliced sweet onions, such as Vidalia or Walla Walla. Cook for 2 to 3 minutes before turning the heat to low and cooking for 45 minutes to an hour, stirring occasionally. Add these to your sauce.
Step 3
Add a small amount of white sugar and stir well. Taste your sauce and add more if necessary. As an alternative, you may add grated or whole carrots. As they cook in the sauce, the natural sugars release. You may leave them in the sauce or pour the sauce through a colander to remove.
Step 4
Simmer your sauce for no longer than 1 1/2 hours. The longer your simmer the sauce, the more moisture evaporates and the more concentrated the tomatoes become. Remove the sauce from heat and let sit for 40 minutes.
Step 5
Add 1 1/2 teaspoons of baking soda. Expect to see slight bubbling as the baking soda neutralizes the acid. Stir the sauce until the bubbling stops.
Things You'll Need
Peeled plum tomatoes

Onions

Skillet

Olive oil

Sugar

Carrots

Colander

Baking soda
Tip
Use one or all of these acid-cutting ingredients, depending on which tips best suit your sauce.