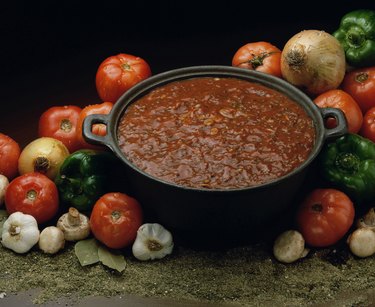 Like soup and stew, chili is a one-pot meal of endless variations. Ground beef, steak, pork, corn, kidney beans, bell peppers, hot peppers, onions, tomatoes, garlic, cumin, oregano, brown sugar and chili powder are common ingredients in many chili recipes, while chicken, mushrooms and zucchini are a little more out of the ordinary. Tomato paste — a thick, potent tomato concentrate — infuses a pot of chili with a bright, zesty flavor that complements beans and beef equally well. It's one of the main flavor ingredients in this quick recipe, which cooks up in less than 30 minutes and serves four.
Step 1
Peel and chop the onion. Place the saucepan with the onion and the ground beef over medium heat, stirring frequently until the beef is browned and the onion is translucent. Drain off the excess fat.
Step 2
Transfer the beef and onion to a stock pot or Dutch oven placed over medium heat. Stir in a full 6-oz. can of tomato paste. Fill the can with water three times, and pour it into the pot. Add the chili powder, cumin, salt, black pepper and brown sugar.
Step 3
Pour the kidney beans into a colander to drain and rinse well. Add them to the pot. Bring the chili to a boil, then reduce heat, cover and simmer for approximately 20 minutes, stirring once or twice as it cooks.
Step 4
Taste before serving. To increase the chili's spiciness, add more chili powder and cumin. Top each bowl with a sprinkling of shredded cheese and a dollop of sour cream, if desired.
Things You'll Need
Sharp knife

Cutting board

Small onion

1 lb. lean ground beef

Medium saucepan

Wooden spoon

Nonreactive stock pot or Dutch oven

6-oz. can tomato paste

Can opener

Measuring spoons

2 tsp. chili powder

1 tsp. salt

1/2 tsp. cumin

1/4 tsp. black pepper

2 tbsp. brown sugar

16 oz. can kidney beans

Colander

Shredded cheese blend (optional)

Sour cream (optional)
Tip
Cookware made of aluminum or copper is reactive, meaning the materials react chemically to certain foods — including acidic ingredients such as tomatoes and tomato paste — to impart a metallic taste to the meal. Cookware made of stainless steel, enamel, clay or glass is non-reactive, and won't interact with acidic ingredients, which is an important consideration when cooking and serving tomato-based chili.