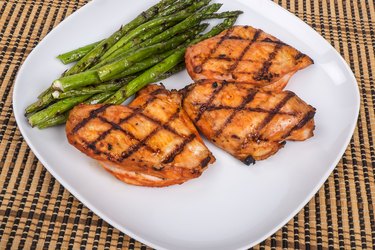 Piri piri marinade, also known as peri peri marinade, gives chicken a sharp, spicy flavor. The sauce originates from Portugal, though many South American and Caribbean countries have their own versions. In general, piri piri marinade combines the kick of fresh red chilies with the refreshing taste of citrus. The marinade works on any part of the chicken, whether you're cooking breasts, wings, thighs or drumsticks. Keep in mind that skinless chicken makes for a healthier meal. For example, according to the USDA, roasted skin-on chicken drumsticks contain over 11 percent fat as compared to less than 6 percent for skinless drumsticks.
Step 1
Add 6 fresh Serrano chili peppers, 1 tsp. sea salt, a pinch of paprika, 1/2 cup olive oil, the juice and zest of one lemon, 4 tbsp. red wine vinegar and 3 cloves of garlic to a blender. Pulse the blender until the ingredients are chopped into a rough paste.
Step 2
Rinse and dry a whole chicken. Cut it into smaller pieces if that suits you. Place the chicken into a food-safe plastic bag with a resealable opening.
Step 3
Set 1/4 cup piri piri marinade into the refrigerator.
Step 4
Pour the remaining piri piri marinade into the bag with the chicken and seal the bag.
Step 5
Massage the marinade into the chicken through the plastic bag. Let the sauce seep into every crevice on the bird before putting the bag in the refrigerator.
Step 6
Allow the chicken to marinate in the fridge for at least 30 minutes. Leaving the bag overnight ensures that the flavor fully enters into the skin and flesh of the bird.
Step 7
Baste the chicken with the saved piri piri marinade while it cooks to help keep it moist.
Things You'll Need
6 Serrano chili peppers

Sea salt

Pepper

Paprika

1/2 cup olive oil

1 lemon, juiced

Zest of 1 lemon

4 tbsp. red wine vinegar

3 cloves garlic

1 whole chicken

Blender

Plastic bag with seal
Tip
Raise or lower the amount of fresh red chilies used in the sauce depending on how spicy you want the chicken to taste as well as the size of the peppers.
Chop the chicken into more manageable pieces if you intend to barbecue or grill the chicken in smaller servings.
Warning
Do not use any of the leftover marinade from the chicken bag for salad dressing or any other uncooked food. It may contain bacteria that trigger symptoms of food poisoning.
Check that the resealable bag is large enough to contain the chicken before you add the marinade.