Even if you don't load any plates onto an Olympic bar, you're heaving some serious weight -- the classic bar weighs 45 pounds on it's own. Gyms stock a variety of bars nowadays, however, and not all match the Olympic bar in heft. The bars you'd use for a bench press vary in weight, depending on where in the gym you're exercising and the grip type.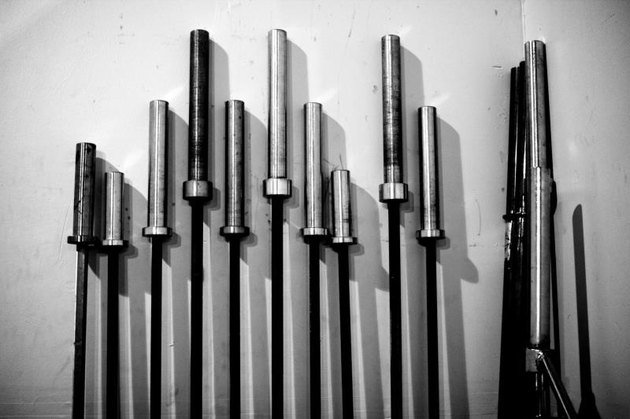 Standard Bar
You'll find a standard bar on most bench press racks. It's made from steel and features a slightly thicker diameter -- compared to a squat bar -- to prevent bending, even with the heaviest of plates at either end. The diameter also makes it most comfortable for the average hand grip. These bars usually weigh 45 pounds, but some with especially thick grips weigh 55 pounds.
They'll usually measure 7 feet in length and can bear at least 600 pounds, with some being strong enough to withstand 1,200 pounds.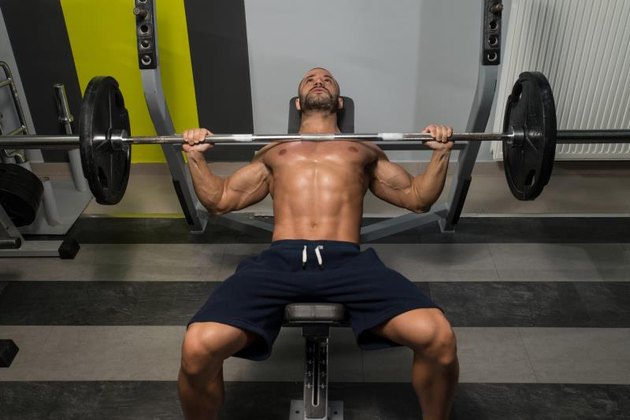 Olympic Bar
Olympic bars are designed specifically for those who train for weightlifting, the Olympic sport. Although they also weigh 45 pounds, like a standard bar, they're composed of a steel specially made for the nature of the event, which involves the dynamic moves of the snatch and clean and jerk. They have a little more give, or whip, to the steel so they rebound and bend gently.
Although not designed for bench pressing, you might find one on a bench press rack occasionally. Although most facilities use the standard bar, trainers and fitness staff may erroneously refer to bars on a bench rack as "Olympic" bars.
Cardio Barbell Equipment
If you're bench pressing in a group strength-training class, chances are your bar is quite different from the ones you find out on the gym floor. It's usually crafted from carbon, a lighter material than steel, and weighs approximately 5 pounds, including the collars that hold the plates in place.
This equipment is designed for high-rep lifts, rather than max lifting, as the bars you find on the gym floor are. The most you could load the bar with would be around 100 pounds, and that would be seriously heavy for these classes.
Swiss Bar
The Swiss bar looks like a standard bar with a rectangular center. Inside the rectangle are bars that serve as additional grip options -- both straight and angled in style. It's sometimes referred to as a "multi-grip" bar.
This bar enables you to easily switch up your grip or add weight in unconventional ways -- such as with chains -- to add variety to your bench press training. The bar weighs less than a standard or Olympic bar -- coming in at 35 pounds.
EZ Curl Bar
You're more likely to find the EZ curl bar racked on a stand or at a preacher curl seat. They allow for a more biomechanically neutral grip for biceps curls, but it's not unheard of to see someone pressing with one -- particularly if you're looking for a lighter lift. A chest press with an EZ bar might feel a little awkward, but it'll do the job. They weigh 15 pounds before you add any plates.