A meat's sell-by date doesn't really tell you whether the meat is safe to eat. While you should never purchase meat after its sell-by date, meat safety after purchase has more to do with how you store it after bringing it home from the market. If you don't store it properly, meat might become unsafe well before its sell-by date or might remain safe for months after its sell-by date.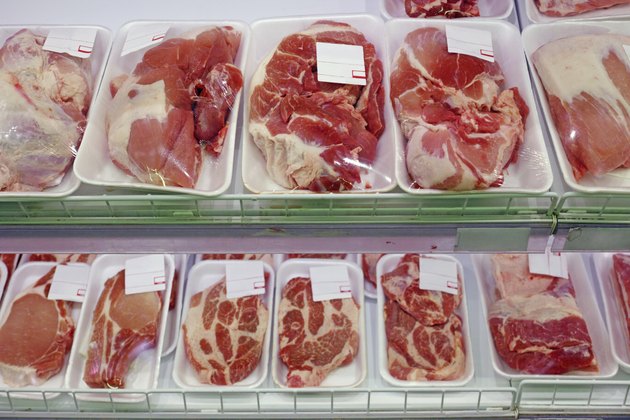 Sell-By Dates
Sell-by dates assist retailers in knowing how long to display a product for sale while giving customers information on the deadline for purchasing a product. You should always purchase meat before its sell-by date. Once you purchase meat, however, the sell-by date becomes meaningless. Sell-by dates only guarantee safety when meat is kept under the precise storage conditions found in commercial retailers, not the conditions present in a home refrigerator. After you purchase meat, you can only safely store it for a certain amount of time, regardless of the amount of time left on its sell-by date.
Safe Storage Times in Refrigerator
How long you can safely consume meat after purchase depends on the type of meat. Poultry, ground beef, ground lamb, ground pork, organ meats and sausage should all be cooked within one to two days after purchase if stored in a refrigerator. Other cuts of beef, lamb and pork should be cooked within three to five days after purchase. Already cooked poultry and sausage should be eaten within three to four days, while lunch meats can be kept for two weeks if they're unopened, but should be consumed within three to five days once opened. Bacon and hot dogs should be used within two weeks if the package is unopened and within one week once you open the package.
Safe Handling
Meat will only remain safe for the aforementioned periods if you also adhere to safe handling practices. Purchase meat from reputable retailers that you trust to store meat properly. When shopping at the grocery store, pick up your meat last so as to minimize time out of the refrigerator. After purchase, immediately take your meat home and put it in the refrigerator or freezer. Keep your refrigerator at 40 degrees Fahrenheit and use a thermometer to check the temperature. Store your meat in the coldest part of the refrigerator; Some refrigerators have an area specially designated for meat storage.
Freezing
If you won't eat meat within the safe storage times, you may put it in the freezer for long-term storage. The freezer temperature should be no higher than 0 degrees Fahrenheit. Frozen meat will remain safe for varying amounts of time, depending on the meat. You can freeze ground beef for three to four months, while beef roasts and steaks stay safe in the freezer for six to 12 months. If you're freezing meat for more than two weeks, take it out of the supermarket wrapping and put it in freezer bags, the University of Colorado Extension recommends.