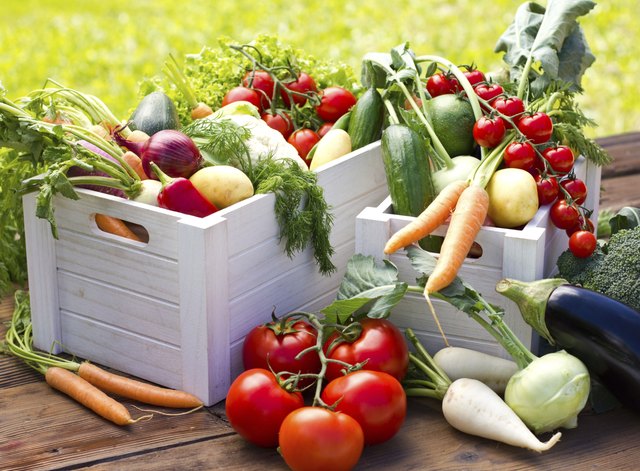 You may need to follow certain dietary guidelines before or after digestive surgery, or during treatment for digestive disorders such as Crohn's disease or ulcerative colitis. One of these guidelines is to limit your intake of high-fiber foods that may be difficult to digest and that may increase your stool bulk. You won't have to stop eating fruits and vegetables, but you will need to choose them carefully and prepare them in a specific way.
Well-Cooked Vegetables
All well-cooked fresh or canned vegetables are easy to digest, with the exception of corn, parsnips, broccoli, green peas, cauliflower, lima beans, winter squash, Brussels sprouts, cabbage, dried beans, peas and lentils. Remove the seeds of any vegetables before cooking, and avoid preparation methods such as steaming, which may leave the vegetables partially uncooked. Cook and serve vegetables without added fat, like butter. A diet high in fat increases digestion time and stool bulk.
Cooked or Canned Fruit
Except for figs, berries, prunes and dried fruits such as raisins, all types of canned or cooked fruits are easy on the digestive system. Before cooking fruit, remove and discard all of the seeds, peel and skin. Commercial fruit sauces, such as unsweetened applesauce, are also acceptable. Some people on a low-fiber diet find that canned pineapple causes digestive distress. If it or any other allowed fruit is a problem for you, stop eating it and talk to your doctor.
Raw Fruits and Vegetables
Green peppers, romaine lettuce, tomatoes, onions, zucchini and cucumbers are the only raw vegetables considered easy to digest. Remove all the seeds before consuming. Even if you can tolerate a vegetable when it's cooked, such as spinach, you should not try to eat it raw. The only fruits you can eat raw are very ripe bananas, papayas, plums, nectarines, peaches and melons, such as watermelon, honeydew or cantaloupe. Be sure to thoroughly skin each piece of fruit first.
Strained Juices
One cup of some fruit or vegetable juices is equivalent to a serving of produce on a low-fiber diet. Easy-to-digest vegetable juices include tomato and carrot juice, as long as they have been strained of any pulp. You can drink any type of strained fruit juice, although you should avoid prune juice and any commercial fruit juice combination containing prune juice.