Whether you like raspberries, blueberries, strawberries, blackberries, goji berries or boysenberries, they're all a rich source of vitamins, minerals and fiber. Berries also have the highest per-serving content of antioxidants -- chemicals that fight cell-damaging free radicals -- than any other food, according to Dr. Michael Greger on NutritionFacts.org. As healthy as they are, however, berries can cause stomach cramps for some people for several reasons, from fiber overload to allergies.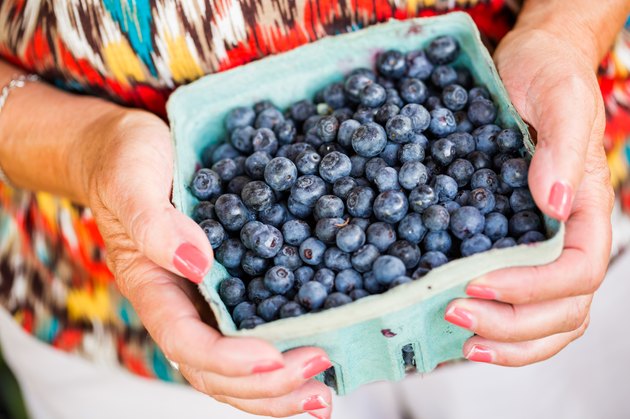 Fiber Overload
Berries are one of the richest fruit sources of dietary fiber, or roughage -- the indigestible parts of plant foods that can help improve digestion. One cup of raspberries contains 8 grams of fiber, and 1 cup of blackberries contains just slightly less. If you gobble up a cup -- or more -- of berries at one time, and you're not used to eating all that fiber at once, you may experience digestive upset in the form of stomach cramps.
Allergies to Berries
People can have allergies to any type of food, including berries. An allergy is a reaction from your immune system to a substance it considers a threat. Symptoms of an allergy can range from itchy and swollen lips, tongue and throat to abdominal pain to trouble breathing. In a study published in the "Journal of Investigational Allergology & Clinical Immunology" in 2012, researchers tested 30 plant-food allergenic people for allergies to goji berries and found that 77 percent tested positive. The researchers concluded this was due to cross-reactivity with a protein found in other plant foods. You may be more likely to have an allergy to berries if you are allergic to certain other foods. For example, in a study published in "Allergy and Asthma Proceedings" in 2006, 33 percent of participants who were allergic to grapes had a co-sensitivity to strawberries.
Salicylate Sensitivity
An intolerance to a substance in berries called salicylate may be to blame for your stomach cramps. Salicylates are a type of natural pesticide in many plant foods to which people have varying sensitivities. Some people may have no sensitivity, while others can experience stomach discomfort gas and diarrhea. Other symptoms may include headaches, rashes, irritability, anxiety and depression. Your symptoms may be worse if you eat a larger portion of berries.
Fructose Malabsorption or Intolerance
Fructose is the sugar naturally found in fruits, including berries. Some people have difficulty absorbing fructose and experience digestive problems, including abdominal pain and diarrhea, when they eat fruit. Some fruits are higher in fructose and more likely cause problems. Also, the ratio of fructose to another sugar found in fruits called glucose plays a role; glucose aids the absorption of fructose, so symptoms are less likely to occur. Cranberries are low in fructose, while mulberries, raspberries and strawberries are moderate in fructose. Blackberries are high in fructose but have a good fructose-to-sucrose ratio. Blueberries and canned berries in syrup are very high in fructose, but they're also high in glucose, so they may or may not cause digestive problems.
Steps to Take
You should always consult with your doctor about stomach cramps that occur regularly after eating specific foods. Introduce high-fiber foods to your diet slowly if you've previously been eating a low-fiber diet to prevent stomach cramps. If you're diagnosed with an allergy, you will need to avoid the food because symptoms can vary and worsen with subsequent episodes. If your problem is due to a food intolerance, you might be able to eat small amounts of the food without a problem. Because food intolerances aren't life-threatening like allergies, you can experiment to see how much you can safely eat.