Garlic is used as a seasoning on numerous types of foods, from seafood and chicken to salads and breads. Some proponents claim that eating garlic can entice health benefits, although more research is needed. While garlic may have some benefits, eating too much can cause gastrointestinal complications and unpleasant side effects.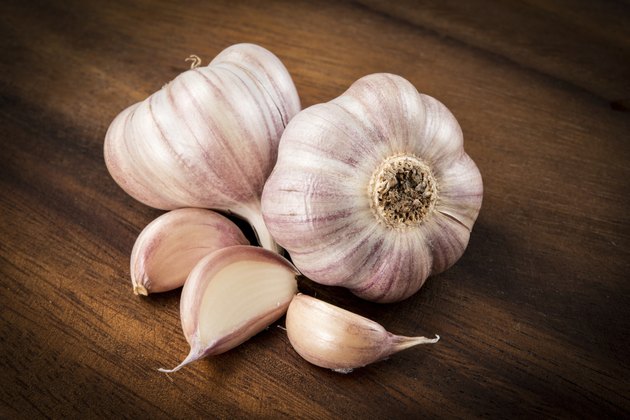 Dosage
If you're an average healthy person, you may safely consume up to four cloves of garlic each day, with each one weighing about a gram, according to the University of Maryland Medical Center. While several cloves of garlic may be safe for some people, they're not safe for everyone.
Uses
The primary use of garlic is for food seasoning. Garlic is also used medicinally to treat certain health conditions such as heart disease, high blood pressure, atherosclerosis, high cholesterol and sinus congestion. Some speculation exists regarding the benefits of garlic as a food additive to prevent certain types of food poisoning. MedlinePlus reports that garlic can kill some bacteria, such as E. coli, as well as salmonella, in laboratory testing.
Effectiveness and Safety
Garlic is possibly effective for treating certain conditions such as high blood pressure, atherosclerosis, tick bites and fungal infections of the skin. It's also rated as possibly effective for colon, rectal and stomach cancer. While garlic may have some benefits to these conditions, MedlinePlus rates garlic as possibly ineffective for treating diabetes, bacteria that causes stomach ulcers, high cholesterol and poor circulation. For most people, garlic is considered generally safe when taken orally.
Side Effects
Garlic, especially when you consume too much, can have some unpleasant side effects such as bad breath, burning of the mouth, diarrhea, body odor and vomiting. These side effects typically occur when you consume too much raw garlic. Garlic can also increase your risk of bleeding. If you have bleeding disorders or take blood thinners, limit the amount of garlic that you consume and do not take garlic supplements. Ask your doctor what's right for you. Those who work with garlic may develop asthma or other allergic reactions. If you have a sensitive stomach or have certain health conditions, such as a gastrointestinal disorder, you may not be able to safely consume up to four cloves of garlic each day.
Is This an Emergency?
If you are experiencing serious medical symptoms, seek emergency treatment immediately.