Ball-tip steak is a cut from the beef round or loin and is often packaged as round tip steak, sandwich steak, minute steak, beef sirloin tip steak or knuckle steak. Ball tip steak is versatile: It can be braised, broiled, sauteed and used in stir-fries, though Certified Angus Beef advises that it is also a good choice for grilling. A 3.5-ounce serving of ball-tip steak is considered a lean cut of beef because it contains only 5 grams of fat, 2 grams of which are saturated fat, and 63 milligrams of cholesterol. However, the Harvard School of Public Health advises consuming red meat less than twice weekly to keep your risk of heart disease and cancer low.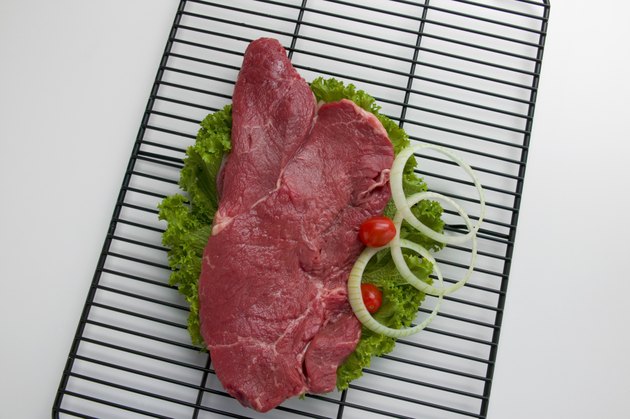 Marinate the Steak
Because ball-tip steak is so lean, you'll need to marinate the meat before grilling to tenderize it and to ensure that you don't end up with dry, tough, tasteless steak. Use your favorite low-sodium commercial brand of marinade or make your own by combining equal parts of oil and an acid such as vinegar or lemon juice with aromatic herbs and spices and a small amount of salt and sugar, if desired. Plan on using approximately 1/2 cup of marinade for every pound of meat. Marinate the steaks in a nonreactive glass or plastic container in the refrigerator for at least 20 hours but no more than 48 hours prior to grilling. Never reuse marinade due to bacterial contamination from the raw meat.
Prepare the Grill
To prepare ball-tip steak on a gas grill, you'll need to use the low to medium heat setting. If your grill has a thermometer, set it for 300 to 350 degrees Fahrenheit. If you're using a charcoal grill, set it up for indirect grilling to prepare ball-tip steaks. In this method, "Barbecue Bible" author Steven Raichlen says that you should light the coals, then arrange them in two piles on either side of the grill when the temperature has reached 350 degrees Fahrenheit, or when you can hold your hand comfortably 3 inches over the grate for no more than 7 seconds.
Cook the Beef
Remove the steak from the marinade and place it in the middle of the preheated grill with the fattiest side of the steak facing down. Remember to discard any remaining marinade to avoid bacterial contamination. Allow the beef to grill for approximately 30 to 40 minutes, using tongs to turn the steak over every 3 to 4 minutes.
Check, Rest and Serve
For medium-rare ball-tip steak, grill until a meat thermometer inserted into the thickest part of the beef registers 145 degrees Fahrenheit. Use clean tongs to put the steak on a cutting board and let it rest, undisturbed, for 10 to 15 minutes to allow the accumulated juices to settle within the meat, giving you juicier steaks in the end. With a sharp knife, slice the meat across the grain and serve. Avoid cutting the steak too thinly or the beef will shred instead of yielding firm slices.