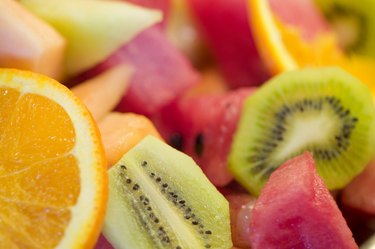 Bloating is a general symptom that may be related to various digestive conditions. If you begin eating more fruit, the fiber content of the fruit can cause bloating and gas. If your symptoms are consistent with eating fruit, you may have a more serious medical condition. Common conditions that would cause bloating from eating fruit include fructose intolerance, a fruit allergy or irritable bowel syndrome. Talk with your doctor for a clinical diagnosis. Do not attempt to self-diagnose or self-treat based on your symptoms.
Fiber
Fruit and vegetables typically contain fiber. Increasing the amount of fruit you eat can lead to bloating, gas, stomach pain and cramping. If you've recently begun eating more fruit, cut back and slowly increase how much fruit you consume over a week or two. Adding fruit gradually will help your digestive system slowly adjust to the increase in fiber intake. Talk with your doctor if you experience any other side effects when increasing your fruit intake. Too much fiber can cause problems with absorbing minerals and other nutrients, according to MedlinePlus.
Fructose Intolerance
Digestive symptoms, such as bloating, which develop after eating fruit may be a sign of fructose intolerance. Unlike other food intolerances, such as lactose intolerance or MSG intolerance, fructose intolerance can lead to severe health complications. Fructose is the sugar found in fruit, and it is widely used in beverages and processed foods. If you're fructose intolerant, your digestive system cannot digest the sugar because your body lacks certain enzymes. Without these enzymes the body cannot absorb the fructose, which can lead to a drop in blood sugar, liver damage and excessive weight loss.
Fruit Allergy
A minor allergic reaction to certain fruits can cause bloating within minutes of eating fruit. The most common fruits that cause allergic reactions include strawberries, melons, pineapple and other tropical fruits, according to the University of Maryland Medical Center. An allergy to fruit is caused by a malfunction in the immune system. Your immune system fails to recognize the proteins in the fruit as safe for consumption and alerts the body that a threat is present. This causes the chemical release of histamine, which triggers most allergy symptoms.
Irritable Bowel Syndrome
Irritable bowel syndrome is a consideration, because bloating is a common symptom of this digestive condition that can be triggered from eating fruit, according to MedlinePlus. If you notice that you develop bloating along with chronic diarrhea or constipation, call your doctor.
Is this an emergency? If you are experiencing serious medical symptoms, please see the National Library of Medicine's list of signs you need emergency medical attention or call 911.