Soy is a natural source of many essential nutrients, and it can usually be a healthy addition to a balanced overall meal plan. Examples of soy-based products include tofu, miso, soymilk, soy burgers, soybeans and edamame. The difference between soybeans and edamame is in the level of maturity when the beans are harvested. Soybeans are mature, while edamame is harvested while the beans are still young and soft. Soybeans and edamame have many similarities, but it is worth investigating their differences to help you decide which to use.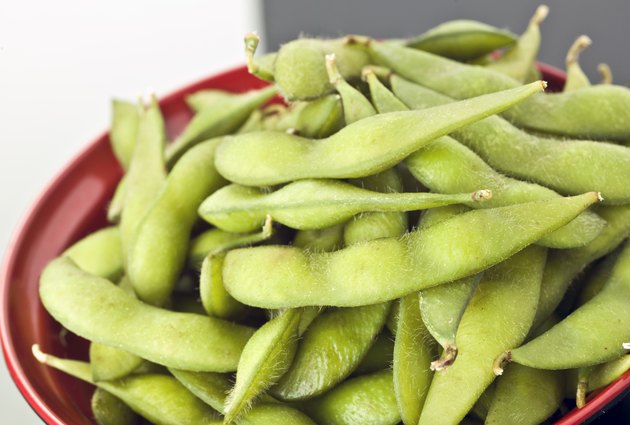 Background and Uses
You can make soybeans into products such as miso, soybean paste, tofu, soybean curd, tempeh or fermented soybeans; however, you can also eat soybeans on their own. Roasted soybeans are also called soy nuts, according to the University of Michigan. Edamame beans are less mature, sweeter soybeans that you eat when they are still green. Eat them for snacks, in stir-fry, salads or add them to chili as per the National Garden Bureau.
Calories and Protein
Each cup of raw edamame, or green soybeans, provides 376 calories, while a cup of mature raw soybeans has 830 calories. Each cup of edamame has 33 grams of protein, and soybeans have 68 grams of protein, or 136 percent of the daily value. The protein from soybeans and edamame beans is high-quality, or complete, which means that it provides each of the essential amino acids which you need to get from the diet, according to the University of Michigan.
Fat and Carbohydrates
Edamame has 17 grams total fat, and raw, mature soybeans have 37 grams fat per cup. Saturated fat raises levels of LDL cholesterol in your blood, and edamame has 2 grams, compared to 5 grams saturated fat in soybeans. Each cup of raw edamame provides 28 grams total carbohydrates, including 11 grams dietary fiber. Raw soybeans provide 56 grams carbohydrate and 17 grams fiber. Dietary fiber is an essential nutrient, which lowers your cholesterol levels and may help stabilize your blood sugar.
Vitamins and Minerals
Soybeans have 679 micrograms folic acid per cup, and edamame beans have 35 micrograms folic acid, which is essential for preventing neural tube birth defects. Raw soybeans have more than 500 milligrams calcium, or more than one-half of the daily value for calcium, which you need for strong bones. Edamame has 71 milligrams of calcium per cup. The daily value for iron is 18 milligrams, and edamame beans have 2 milligrams, while soybeans have 29. Both kinds of beans are low in sodium.