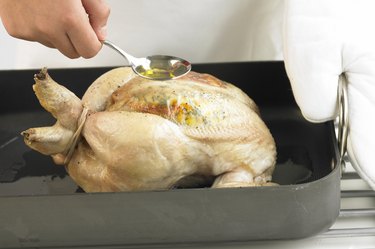 Baking chicken in the toaster oven opens up room in your regular oven, and it can help those who do not have an oven available. Due to the compact size of most toaster ovens, baked-chicken recipes are typically only suitable to make one to two servings at a time. You'll need approximately one hour to prepare and bake a chicken in the toaster oven.
Step 1
Marinate the chicken for four hours prior to baking it. Since baking can dry the meat, keep the chicken moist by soaking it for four hours in buttermilk or Italian dressing. Cover the chicken with the dressing and place it in a closed container in the refrigerator until it is ready to cook.
Step 2
Preheat the toaster oven to 350 degrees Fahrenheit. Use the "Bake" option on the appliance.
Step 3
Coat the chicken before baking. According to the cookbook, "Pop it in the Toaster Oven: From Entrees to Desserts" by Lois Dewitt, you can use a mixture of cornmeal, wheat germ, salt, pepper, paprika and garlic in your coating. Plain or seasoned bread crumbs will also suffice. Coat the chicken completely on both sides and set it aside.
Step 4
Cover the tray of the toaster oven with aluminum foil. Spray the tray with nonfat cooking spray to keep the chicken from sticking to the foil during cooking.
Step 5
Arrange the chicken breasts on the tray. Spread a small amount of olive oil on the chicken to coat it. This prevents the chicken from drying as it bakes in the toaster oven.
Step 6
Bake the chicken for approximately 35 to 45 minutes in the toaster oven. Use a meat thermometer to determine the doneness of the chicken. The internal temperature should read a minimum of 165 degrees Fahrenheit.
Things You'll Need
1 to 2 skinless chicken breasts

Nonstick cooking spray

Olive oil

Aluminum foil

1 cup buttermilk or Italian dressing

2 cups breadcrumbs
Tip
Always use thawed chicken breasts, never frozen. Frozen chicken breasts will not cook properly in a toaster oven.