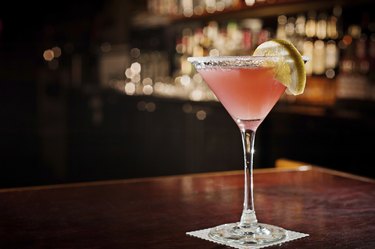 Bitter Lemon is a lemon-flavored beverage similar to tonic water. Due to its bold flavor, Bitter Lemon is used as a mixer for alcoholic beverages, but you can also drink it on its own. If you are dieting, Bitter Lemon may not be an ideal choice, as it is high in calories and does not provide a large degree of nutritional benefits. Check labels when available, as nutritional values may differ slightly among brands.
Calorie Content
Bitter Lemon is relatively high in calories, as an 8 oz. serving provides 120 calories. This amount comprises 6 percent of the daily suggested intake of 2,000 calories and is slightly more than the amount you'd find in 8 oz. of lemon-lime soda, 96 calories. If you are active, you can burn off the calories in 8 oz. of Bitter Lemon relatively quickly. A 25-minute session of water aerobics or 13 minutes of jogging would be sufficient to burn 120 calories.
Carbohydrate Content
Bitter Lemon is rich in carbohydrates, as each 8 oz. serving of the beverage contains 32 g of carbohydrates. Of these carbohydrates, 31 g come from sugar. While carbohydrates provide energy, consuming too much sugar can be unhealthy, as sugar can promote tooth decay, and according to the Harvard Medical School, regularly consuming sugary drinks may increase your risk of heart disease and diabetes.
Fat Content
Bitter Lemon is fat free. Although eating too much saturated fat is unhealthy, you do need some dietary fat to maintain optimal health. The American Heart Association recommends that you consume between 50 and 70 g of dietary fat each day, although 16 g or fewer should come from saturated fat.
Protein Content
Bitter Lemon does not contain any protein. Protein is a vital nutrient that provides your body with amino acids, which are structural components of muscle and other body tissues. The Institute of Medicine recommends consuming at least 0.8 g of protein per kg of body weight. The Harvard School of Public Health notes that increasing your protein intake to 25 percent of your total calories may help you reduce your risk of heart disease.
Sodium Content
Bitter Lemon is a low-sodium beverage, as each 8 oz. serving of this beverage contains 30 mg of sodium, which comprises 1 percent of the daily suggested intake.