Dealing with cramps and loose bowel movements as a result of diarrhea can be uncomfortable, especially if you have a busy day scheduled. Although medication can help firm stool and relieve diarrhea, you can also turn to certain foods to do the trick. A variety of foods can help bind bowels to help you restore healthy, normal bowel function.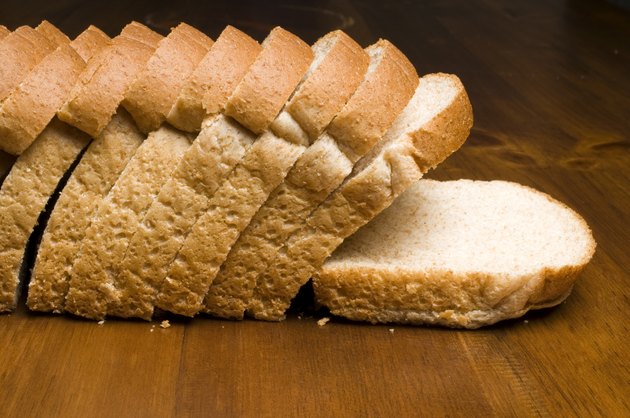 Dealing With Diarrhea
MedlinePlus categorizes diarrhea as loose and watery bowel movements occurring at least three times a day. Along with the change in your bathroom habits, you might also experience abdominal cramps and nausea. This common ailment has many causes, including bacteria, viruses and food allergies. Your everyday diet can also lead to diarrhea, especially if the diet is very high in fiber.
Load Up on These Foods
Eating low-fiber foods is a helpful way to ease your diarrhea. Cedars-Sinai recommends foods such as white bread, and MedlinePlus recommends including items such as bananas and peeled potatoes in your diet. MedlinePlus also advises eating salty foods such as pretzels and soup and drinking beverages such as fruit juice and sports drinks. Other foods that can help include white pasta and rice, peanut butter and low-fiber cooked vegetables such as mushrooms.
Skip These Foods
While a number of foods can help relieve diarrhea, several other foods can make the problem worse. In general, avoid prunes, berries, cabbage, broccoli, beans and lentils. High-fat processed meats are also best to avoid, as are caffeine and alcohol. Stay away from foods that are excessively greasy or spicy.
Next Steps to Take
Eating the right foods can often help you get over diarrhea, but you should always speak to your doctor if your diarrhea lasts more than two days. Other causes for concern include blood in your stools, stools with an abnormal odor, fever and pain in your stomach. Your doctor might recommend that you consume only fluids, such as soups and fruit juices, for 12 to 24 hours.