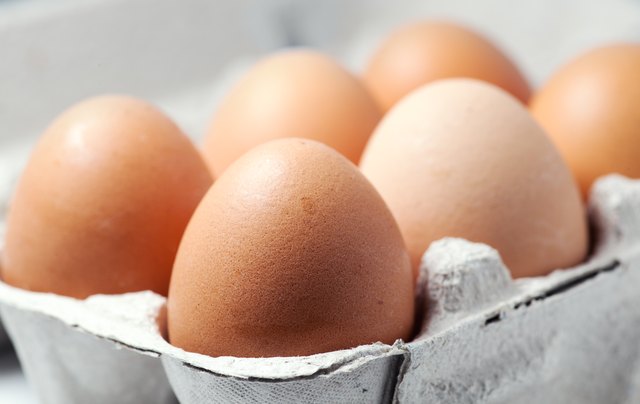 Eggs are rich sources of all the essential proteins needed for human health. One egg contains 7 g of protein, with 4 g coming from the egg white and 3 g contained in the yolk. According to Yiu Hui in "Handbook of Food Science, Technology and Engineering," the egg white has 12 percent protein and 86 percent water while the yolk has 17 percent protein, 49 percent water and 32 percent fat. Egg whites contain over 40 kinds of proteins, some in very low concentrations.
Egg Yolk Protein
Most of the proteins in egg yolks are bound with lipids to form lipoproteins. The lipoproteins are divided into two components: a plasma and a granule fraction. The granule portion contains a phosphoprotein, known as phosvitin, which is 54 percent serine. Serine is an amino acid that can act as a carrier of calcium or iron ions in biological systems.
Ovalbumin
Ovalbumin is the major protein found in egg white, comprising 54 percent of its total protein content. In "Bioactive Natural Products," authors Steven Colegate and Russell Molyneux list ovalbumin as a source of several bioactive compounds, including oligopeptides and ovokinin. According to Colegate and Molyneux, many of these compounds have antimicrobial, immunomodulatory, antihypertensive or antioxidant properties.
Ovotransferrin
Ovotransferrin, which has also been called conalbumin, comprises 12 percent of the protein content of egg white. It functions as a metal-chelating protein, binding minerals such as iron and copper. Researcher A. S. Naidu presents evidence in "Natural Food Antimicrobial Systems" that ovotransferrin is the main antimicrobial compound in egg whites, protecting the yolk from bacterial contamination.
Ovomucoid
Eleven percent of the protein in egg white is ovomucoid protein. According to "Advances in Food and Nutrition Research" by Steve Taylor, ovomucoid functions as a proteinase inhibitor. Ovomucoid has trypsin-inhibiting ability, which can prevent enzymes from breaking down certain egg white proteins.
Ovoglobulins
Ovoglobulins G2 and G3 make up 10 percent of the protein in egg white. The exact role of ovoglobulins within the egg is not yet clear. They are important agents in the foaming quality of egg whites.
Lysozyme
Lysozyme constitutes 3.5 percent of egg white protein. According to Taylor, it is a bacteria-killing enzyme that helps keeps eggs from spoiling and is being used commercially as an antimicrobial. Lysozyme is also under investigation as a food preservative and as a way to reduce microbial counts in meats.
Ovomucin
Egg whites contain 3 percent ovomucin, which is a jelly-like protein. Taylor writes that ovomucin has both soluble and insoluble fractions. The insoluble ovomucin predominates in the dense gel-like part of egg white, and soluble ovomucin is the main element of the thin outer egg white layer. Ovomucin changes over time, thinning out as eggs are stored.
Avidin
Avidin makes up 0.5 percent of egg white protein. Although it is present in small quantities, it has a strong ability to bind biotin, or vitamin B7. When egg whites are eaten raw, avidin binds to biotin, which can cause biotin deficiency. Cooking an egg inactivates the avidin.
Other Proteins
Some of the other proteins found in lesser quantities in eggs are ovomacroglobulin, 0.5 percent; ovoglycoprotein, 1 percent; flavoprotein, 0.8 percent; ovoinhibitor, 1.5 percent and cystatin, 0.05 percent. Ovomacroglobulin inhibits viral haemagglutination. Flavoprotein stores riboflavin, which is also known as vitamin B2. Ovoglycoprotein is also a trypsin inhibitor, and cystatin inhibits the enzymes ficin and papain.