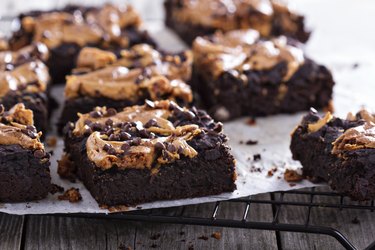 A convection oven uses a fan to circulate hot air throughout the oven cavity. When the hot air is blowing, food tends to cook more quickly than in a conventional oven. The hot air also allows chemical reactions that occur during the cooking process, making flakier pie crusts and moist meat with a crispy skin. Convection ovens tend to bake approximately 25 percent faster than conventional ovens. You can use them to make everything from a turkey to brownies.
Step 1
Preheat your convection oven to 300 degrees Fahrenheit. This is about 25 degrees less than a conventional oven. Keep in mind that convection ovens typically preheat quicker than conventional ones.
Step 2
Spray your baking pan with nonfat cooking spray.
Step 3
Prepare brownies as indicated by recipe of your choice. Pour the batter into the pan. Smooth the top.
Step 4
Place the pan in the oven, and bake for 25 minutes. Check the brownies to be sure they are cooked through by sticking a toothpick into the center of the pan. The toothpick should come out clean with a few moist brownie crumbs on it when fully cooked.
Step 5
Let the brownies cool completely, and then lift them out of the pan. Cut into squares and serve.
Things You'll Need
Brownie mix or recipe

9-by-9-inch baking pan

Cooking spray