In the pursuit of weight loss, people will try many forms of exercise, from jogging, cycling and gym cardio to lifting weights. One training method you might have overlooked is kettlebells. As with any exercise plan, how quickly you lose weight following a kettlebell plan depends on a number of factors. That being said, kettlebells may produce faster results than other lower-intensity forms of training -- and you can lose weight, provided you work hard.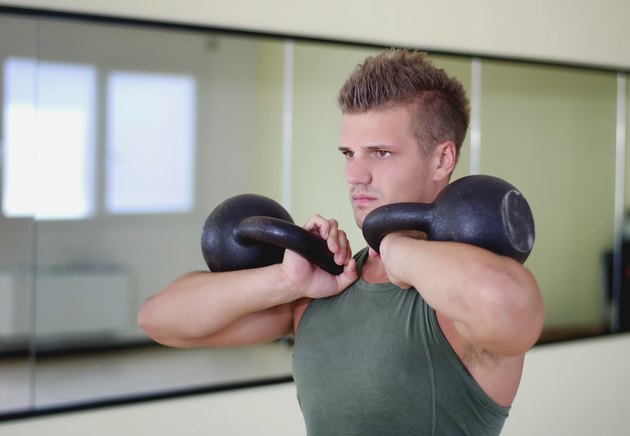 In or Out
Calories in versus calories out is the main factor in how quickly you lose weight. To lose 1 pound you need a calorie deficit of 3,500. You could expect a 60-minute kettlebell workout to burn in the region of 450 to 600 calories, notes fitness consultant Kelly Marshall. If you were currently maintaining your weight and took up kettlebell training, that would mean that you'd need to work with kettlebells for three to three and a half hours over the course of a week to lose half a pound, all things being equal.
Kettlebells With Diet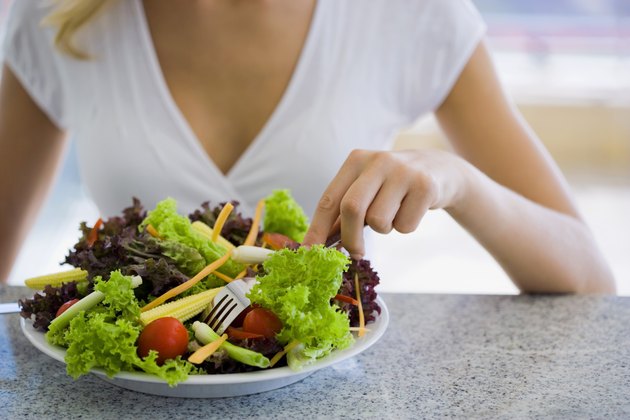 Whether you change your diet is another huge factor in your weight loss progress. Kettlebell training is certainly demanding and calorie-intensive, but even so, losing weight will be tough with no dietary changes. Were you to train for the above three hours or more and cut 250 calories from your daily food intake, this could double your weight loss to 1 pound per week.
At the same time, it might not be the best idea to reduce calories when starting a kettlebell routine. Your body may need more calories when adjusting to a new routine, notes Lou Schuler in "The New Rules of Lifting for Women." So perhaps let your body adjust to the demands of kettlebell training for a few weeks before making any dietary changes.
Maybe More?
Some experts argue that training with kettlebells may actually burn even more calories. A study conducted by the American Council on Exercise found that 20 minutes of continuous kettlebell training burned the equivalent calories of running at a six-minute mile pace. Trainer Jennifer Cohen adds that you can expect to burn 200 calories in 10 minutes, or 600 calories in a half-hour session.
Muscle and Might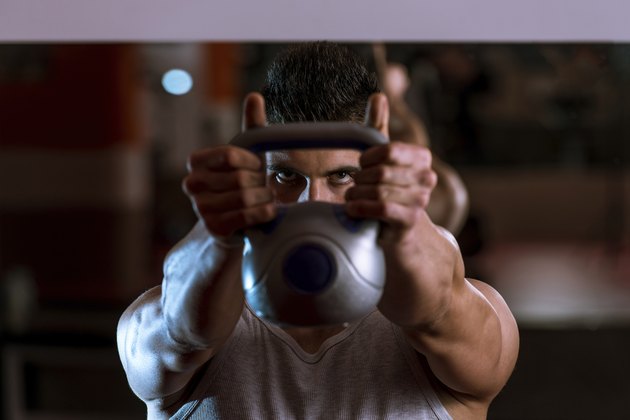 One important thing to remember is that if you're new to resistance training, weight loss may be slower than if you were to do traditional cardiovascular exercise. This is because kettlebell training can build muscle, so while you're burning calories and fat, you may also be adding muscle mass. The speed at which you'll lose weight with kettlebell training is difficult to predict, though if you train hard and eat a calorie-controlled diet, you can expect to lose in the region of 1 to 2 pounds per week, with this figure perhaps being slightly higher in the initial two to three weeks.