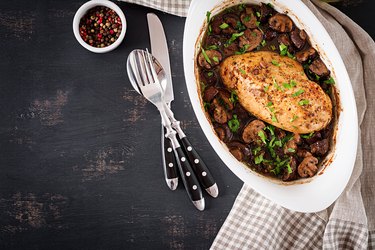 Americans eat about 64 pounds of chicken per person per year, according to the USDA, which is more than beef, pork and fish. If chicken is a regular item on your menu, baked chicken breast is a simple preparation method that also allows you to get creative with flavors.
Tip
To bake one pound of chicken breast in a 375 degree Fahrenheit oven, cook your breast for 20 to 25 minutes, or until it's reached an internal temperature of 165 degrees.
Nutrition in Chicken Breast
According to the Academy of Nutrition and Dietetics, many Americans report that they're eating more chicken for health reasons. The lean source of protein is lower in calories and saturated fat than red meat, and many health professionals recommend chicken as a healthier option.
133 calories
27 grams of protein
3 grams of total fat
0.9 gram of saturated fat
16 percent of the daily value (DV) for phosphorus
49 percent of the DV for selenium
46 percent of the DV for vitamin B6
27 percent of the DV for pantothenic acid
By comparison, a 3-ounce portion of skirt steak has 228 calories, 24 grams of protein, 14.5 grams of total fat and 5.2 grams of saturated fat. With beef, you get more calories and fat with less protein. However, the beef is a better source of iron (26 percent of the DV) and vitamin B12 (26 percent of the DV).
Cooking Chicken Breast in Oven
At 375 degrees Fahrenheit, chicken breast oven time is about 20 to 25 minutes. However, to ensure doneness, FoodSafety.gov recommends you use a meat thermometer to check the internal temperature of your chicken. To prevent foodborne illness, your baked chicken breast needs to reach an internal temperature of 165 degrees Fahrenheit.
Cooking chicken breast in oven recipe:
2 boneless, skinless chicken breasts (1 pound)
2 teaspoons of olive oil
Salt and pepper
Preheat oven to 375 degrees Fahrenheit.
Trim fat from your chicken breasts and rinse under cold running water. Pat dry.
Place your chicken breasts on an oiled baking sheet.
Coat your chicken breasts with oil and season with salt and pepper.
Place chicken in the oven and bake for 20 to 25 minutes, or until chicken has reached an internal temperature of 165 degrees Fahrenheit.
Serve your baked chicken breast with roasted potatoes and carrots and a fresh garden salad.
Baked Chicken Breast Variations
Salt and pepper serve as a good base for flavoring your baked chicken breasts, but you don't have to limit yourself to these simple seasonings. Try paprika, rosemary, oregano, onion powder or garlic powder. If you prefer a little kick, consider sprinkling cayenne pepper or red pepper flakes on your chicken before baking. Lemon and capers also make a refreshing addition to your baked chicken.
Consider mixing together low-sodium soy sauce, brown sugar, minced garlic, grated ginger and rice wine vinegar. Place your chicken breasts in a sealable bag and pour your marinade over the chicken and let it sit in your refrigerator overnight. Bake as you would your simply seasoned breasts and serve with brown rice.
Make a few extra servings of your baked chicken breast to keep in the fridge to use for other lunch and dinner meals. You can chop the breast into bite size pieces and make a soup out of broth, leftover brown rice and veggies. Or cover the baked chicken breast with marinara sauce and a sprinkling of mozzarella and Parmesan cheese and bake in a 375-degree Fahrenheit oven until the cheese is melted and bubbly. Serve with a large garden salad.