Pumpkin has only 41 calories per 1/2-cup serving and is jam-packed with vitamin A, containing 336 percent of the daily recommended dietary allowance for women and 269 percent for men. Pumpkin also supplies vitamin C, iron, potassium, magnesium and folic acid. Microwaving pumpkin saves time and preserves nutritional benefits because when you use the microwave, you don't need to cook the pumpkin in water, which takes away some nutritional value.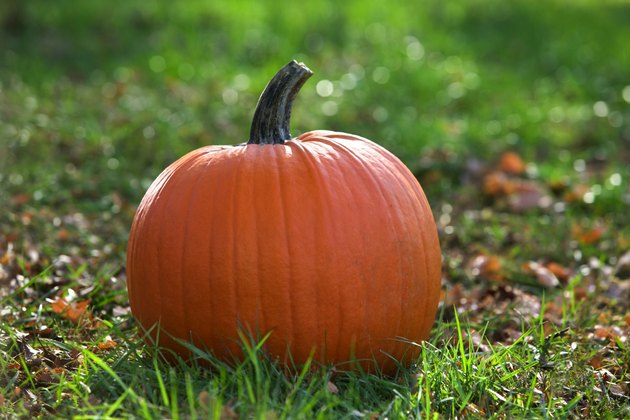 Choosing the Right Pumpkin for Microwaving
Choose a pumpkin that has no blemishes or soft spots. The shell should feel firm and the pumpkin should have a 1- to 2-inch stem. The stem is an indication that the pumpkin is fresh. When you pick up the pumpkin, it should feel solid and heavy, rather than spongy. Also, choose a pumpkin that has uniform coloring. If your pumpkin recipe calls for 4 cups of cooked pumpkin, you will need about a 5-pound pumpkin or two smaller pumpkins that equal 5 pounds.
Preparing a Large Pumpkin
It takes little time to prepare your pumpkin for microwaving. Simply cut a large, unpeeled pumpkin into quarters and cover the exposed pumpkin flesh with waxed paper or parchment paper. Place the four pumpkin pieces, skin side down, onto a paper towel and microwave on high for approximately 5 minutes per pound. Rearrange the pieces every 2 minutes, so the pumpkin cooks evenly without any raw areas. Cooking times can vary, depending on the wattage of your microwave.
Preparing a Small Pumpkin
If you have a small, round pumpkin, just prick the pumpkin shell in several spots using a fork. The small holes let the steam escape from inside the pumpkin. Set the microwave on high and cook the pumpkin for about 20 minutes. Rotate the pumpkin every few minutes for even cooking. After cooking the pumpkin, let it sit for 5 minutes, and then cut it in half and remove the seeds. Next, spoon out the cooked pumpkin and use it in your pumpkin recipe.
More Than Pumpkin Pie
Pumpkin pie is one of the traditional ways to include pumpkin in your diet, but there are many other alternatives for serving this versatile food and incorporating it into your meal plan. For example, spread pumpkin butter on whole grain toast for a nutritious start to your day, or eat a slice of pumpkin bread or a pumpkin muffin with your morning coffee or tea. Add pumpkin chunks to homemade soups and stews or serve pumpkin puree, flavored with cinnamon and molasses or your favorite herbs, as a side to your main meal for lunch or dinner. Use pumpkin in any cookie recipe, like oatmeal pumpkin cookies or pumpkin drop cookies, to enjoy the nutritional benefits of pumpkin in a sweet treat other than pie.