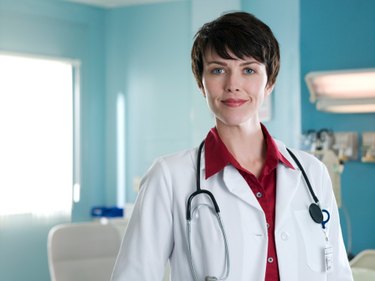 To help speed up weight loss, some people turn to diet aids such as Alli, an over-the-counter pill that helps reduce the amount of fat your body processes from the meals you eat. Using Alli does not guarantee weight loss, but some people find that following the plan helps keep them on track. Even though Alli is not a prescription medication, you must follow the dosage directions to reduce your risk for side effects.
Correct Dosage
One hour prior to your meals, you should take one Alli capsule. You will need to plan your meal so that it contains no more than 15 g of fat. If your planned meal does not contain fat, you do not need to take Alli.
Orlistat
If you think a higher dose of Alli could benefit you, talk to your doctor. She may recommend a prescription-strength form of the medication, called Orlistat. She may also recommend a double dose, or other dosing. You should not take the dosing into your own hands since these increased doses may not be appropriate for you. The drug may interact with certain diseases, and your doctor will know if you have a risk for health interactions.
Effects
If you take more than the recommended amount of Alli, you may have an increased risk for side effects from the drug. You could experience uncontrolled, frequent bowel movements, oily gas and stomach pain. Other complications include skin rash, difficulty breathing, weakness and skin discoloration.
Considerations
Prior to starting Alli, talk with your doctor. She can offer suggestions on food choices and physical activity to help you get the most out of the Alli plan. If your doctor feels you need an increased dosage, she will give you a prescription. Do not take extra Alli pills without discussing the risks with your doctor.