A 50-lb. dumbbell bench press and the barbell bench press both target the pectoral, or chest, muscles. Both exercises utilize either a flat, incline or decline bench. Each bench press method possesses specific advantages to increase muscular strength, size and improve muscular stabilization.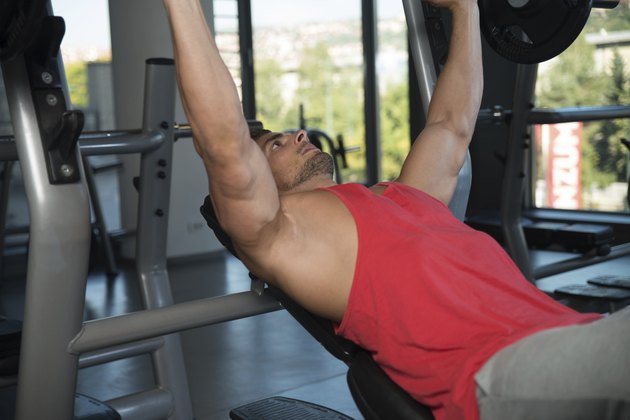 50-lb. Dumbbell Bench Press Advantages
Although both exercises perform the same movement, a 50-lb. dumbbell bench press offers a variety of advantages compared to the barbell variation. Dumbbells allow your arms to move and stabilize the weight independently. This independent stabilization requires an even amount of strength from both sides of your body. As a result, the chance of one side becoming more strength dominant is reduced through dumbbell use. Recruiting additional stabilizing muscles to perform an exercise increases functional strength. Functional strength enables you to perform everyday activities in life such as carrying a laundry basket or picking up a suitcase.
Versatility
The 50-lb. dumbbell bench press offers versatility in workout location. A moving bench typically has wheels for easy transport. The dumbbell bench press provides the ability to perform in a basement, outdoors or any location in the gym. The barbell bench press rack creates a challenge for moving due to the larger size and weight.
Barbell Advantages
The barbell bench press allows the exerciser to control and lift a greater amount of weight. This is because a barbell reduces the need for stabilization compared to the dumbbell method. The ability to lift a greater amount of weight while using the barbell translates to greater increases in muscular strength and size.
Warnings
Both the dumbbell bench press and the barbell bench press pose the risk of injury. When performing heavier weights, employ the help of a spotter to ensure your safety. Choose a weight that you can correctly perform for 12 to 15 repetitions. Always use collars or clips when performing the barbell bench press to prevent your weights from falling from the bar.