Opuntia cactus, native to Mexico but now grown in many warm climates, produces two kinds of food: the prickly pear, and nopales or nopalitos, cactus leaves. Nopal is a common ingredient in Mexican and Central American cuisine, and readily available in Hispanic grocery stores. Choose smaller cactus leaves, that are still bright green and are firm, not wrinkled. Before cooking the nopales, trim off the cactus spines. Then you can boil, grill or saute the nopales, and use them in scrambled eggs, salsas, salads and stews.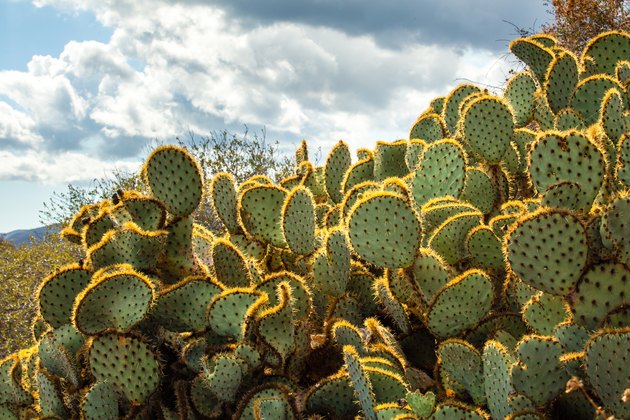 Boiled Nopales
Step 1
Use a pot holder and a sharp knife to scrape the cactus spines off the nopales. Trim the edges of the cactus leaves as well, to remove the spines growing there. Rinse the nopales when done, judiciously ensuring that all cactus spines have been removed.
Step 2
Cut the prepared nopales into strips about the size of green beans. Cut them again into 3-inch pieces.
Step 3
Put the sliced nopalitos into a large pot and cover with water. Bring the water to a boil, reduce the heat and simmer for 20 minutes.
Step 4
Drain off the cooking water and rinse the nopalitos with cold water. Drain them again and let them cool. Cover the nopalitos and store them in the refrigerator and use them in scrambled eggs, salad, stews or soup, or as garnishes for tacos or burritos. The flavor is mild, somewhat like green beans.
Sauteed Nopalitos
Step 1
Prepare the cactus pads by scraping off the cactus spines, rinsing the cactus and then cutting it into strips or dice.
Step 2
Heat 2 tbsp. of oil in a skillet and add the nopalitos. Add 1/2 cup of diced onion. Saute the mixture, stirring frequently, over medium heat. Like okra, nopalitos have a viscous texture, and cooking removes the liquid that causes that. After the nopalitos have exuded their liquid and it has evaporated, they are ready to use.
Step 3
Season the sauteed nopalitos with salt and pepper, and dress them with lime juice and olive oil. Serve as a side dish or garnish, or incorporate into other recipes. For scrambled eggs, add some sauteed onions and peppers to the nopalitos and pour beaten eggs over the mixture. Scramble the eggs as usual.
Grilled Nopalitos
Step 1
Scrape the cactus leaves with a knife to remove the cactus spines. Rinse the leaves and pat them dry.
Step 2
Preheat your grill to medium heat.
Step 3
Place the cactus leaves on the grill and cook for 15 to 20 minutes, until they are tender and browned, turning them occasionally with tongs. Slice them into strips for salad, or into cubes for scrambled eggs.
Things You'll Need
Pot holder

Sharp knife

Fresh nopales, cactus leaves

Large pot

Water

Strainer

Skillet

Oil

Onion

Grill

Lime juice

Olive oil

Salt

Pepper
Tips
Keep fresh cactus leaves in your refrigerator for up to a week, tightly wrapped in plastic. Keep cooked nopalitos in your refrigerator for two or three days, tightly covered.