If preparing food were education, cooking would be liberal arts and baking would be hard science. When it comes to making cookies, cakes and pies, you need to be precise in both ingredient measurements and preparation technique. Confusing mixing and beating in your baking recipe can lead to a finished product that is rubbery and flat in some cases. Mastering rudimentary baking techniques like mixing and beating will limit the chance ofr a mistake the next time you slide a cake pan into your oven.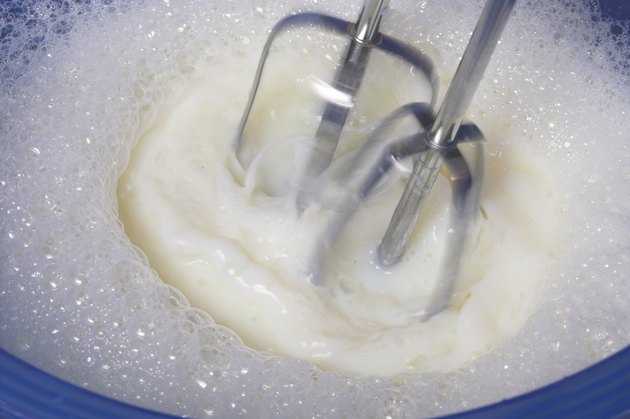 Mixing Technique
Mixing is a broad term in baking that generally means to combine two or more ingredients lightly together. According to Robert Blakeslee, author of "Your Time to Cook," most often you will mix baking ingredients by stirring them with a spoon or fork. You must continue to stir the ingredients until they are "evenly distributed," Blakeslee states. For heavier mixing, some cooks use an electric hand mixer or a kitchen stand mixer to speed the process.
How Much Mixing?
While you use a mixing technique to combine ingredients, over-mixing can lead to a poor texture. One of the most common pitfalls of new bakers is with pancakes. Food Network host Alton Brown states that you do not need to incorporate all of the pancake ingredients fully to mix them properly. Lumps left in the batter will cook out when you place the pancakes in the skillet. Mixing pancakes heavily until the batter is completely smooth will result in a final product that is chewy rather than soft and fluffy.
Beating Technique
Beating is a more intense process than mixing and traditionally requires a whisk or electric mixer. The goal in beating is often more than just combining ingredients together, but also to introduce air into the mixture. Tip the bowl slightly on edge away from you while beating if you are using a whisk. Angle the handle of the whisk toward you slightly so as you beat the mixture you cause the head of the beating device to bring as much air as possible into the baking ingredients. An electric stand mixer is mechanically designed to bring air into the food as it beats.
Beating Uses
Some cakes and baking toppings, such as meringue, require egg whites to be beaten until they are airy and voluminous. This creates a soft structure to your baked goods without the use of a leavening agent like baking powder. According to the authors of "Basic Baking: All You Need to Bake Well Simply," creating an egg-foam batter with a whisk can take up to 45 minutes and a great deal of arm strength, so electric hand or stand mixers are the preferred method of most bakers.