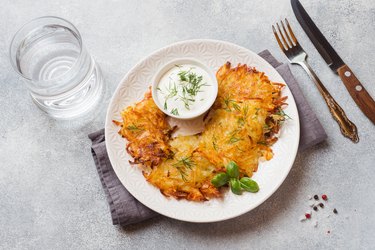 You don't have to be a "breakfast person" to appreciate a hash brown side dish. You can pair hash browns with bacon and eggs, for sure, but you can also serve them alongside a turkey burger or salad for dinner. No matter how you serve them, one thing is for certain — hash browns are sure to be a hit.
Tip
To prepare frozen hash browns quickly, try cooking them in a cast iron skillet over medium-high heat, flipping them with a spatula every 5 minutes until golden brown and crispy.
Frozen Hash Browns
It's true that you can make hash browns from scratch by carefully peeling and shredding some potatoes, but it's not always a realistic option for those with a busy schedule. Thankfully, there are many brands of frozen hash browns out there that are both easy to make and quite delicious — and the fastest way to make hash browns is on the stove.
Pour 3 to 6 tablespoons of vegetable oil into a cast iron skillet.
Place the skillet on your stovetop and set to a medium-high heat preheating to approximately 375 degrees Fahrenheit.
Place your hash browns (loose or in patty form depending on the brand you bought) into the skillet and then cover.
Cook for approximately 5 minutes before flipping them to the other side with a spatula.
Cook for an additional 5 minutes on the other side. Check regularly throughout this process to make sure they aren't burning.
When your hash browns are golden brown and crispy on both sides, remove them from the stove, season them with salt and pepper as desired, and serve. Enjoy!
Tip
While cast iron skillet hash browns are quick and yummy, there is a slightly healthier way to cook them. Try baking them in the oven per the instructions on the package. Typically, bake time is anywhere from 15 to 20 minutes on approximately 450 F, which takes a little bit longer — but the end result is less greasy than what you can prepare on the stove.
Nutrition Information and Tips
According to the USDA, a 100-gram serving of hash browns has approximately 265 calories and is a good source of potassium and magnesium. They are also high in carbohydrates and saturated fats, however. This is why it's important to be mindful of your portion size and supplement your hash browns with other, more nutritious foods. Try eating them with a two-egg omelette packed with spinach and mushrooms or try making LIVESTRONG.com's healthier sweet potato kale hash with poached egg recipe that is a whole meal in itself.
According to the American Society for Nutrition, you should aim to consume at least 15 percent of your daily caloric needs for breakfast, with emphasis on protein calories, as a high-protein breakfast can help keep you fuller longer (reducing your desire to snack) and can even support weight loss if that's your goal. In other words, while a healthy diet certainly has room for frozen hash browns from time to time, nutritionists agree they shouldn't always be the centerpiece of your plate.