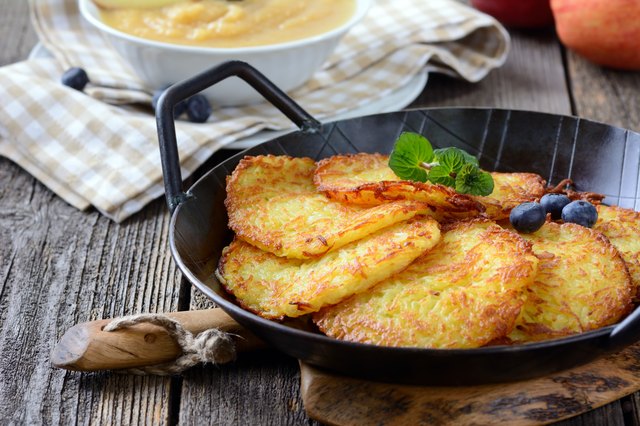 Cooking breakfast or brunch on Sunday mornings is a tradition in many homes, and including frozen hash browns in your meal can be a delicious treat for both you and your kids. Along with tasting great, potatoes are a nutritious food, containing potassium, fiber, magnesium, iron, B vitamins and vitamin C. Frozen hash browns are quick and easy to prepare; serve them with eggs and fresh fruit for a well-balanced family breakfast.
Step 1
Pour 4 to 5 tbsp. of cooking oil in a large skillet.
Step 2
Place the skillet on the stove over medium to high heat.
Step 3
Place five frozen hash browns, or 5 cups of loose hash browns, into the skillet and cover.
Step 4
Cook the first side of the hash browns for three to five minutes; stoves and skillets cook differently so keep an eye on the hash browns to prevent burning. The cooking time is the same for hash browns that are prepackaged in individual servings as it is for those that are loose.
Step 5
Turn the hash browns over to cook on the second side. Cook for another three to five minutes uncovered.
Step 6
Remove the hash browns from the heat when they are brown and crispy. Drain, and salt and pepper to taste.
Things You'll Need
Frozen hash browns

Skillet

Cooking oil

Spatula